Wu Long Review
Asian-themed slots seem so common at online casinos, which is why Wu Long tries to set itself apart by doing more than putting some pandas and generic images on the reels. This slot is specifically themed around the Chinese New Year, and it brings some real fireworks when it comes to the free spin bonus. Read on to learn just how playing this slot will make fortune smile upon you.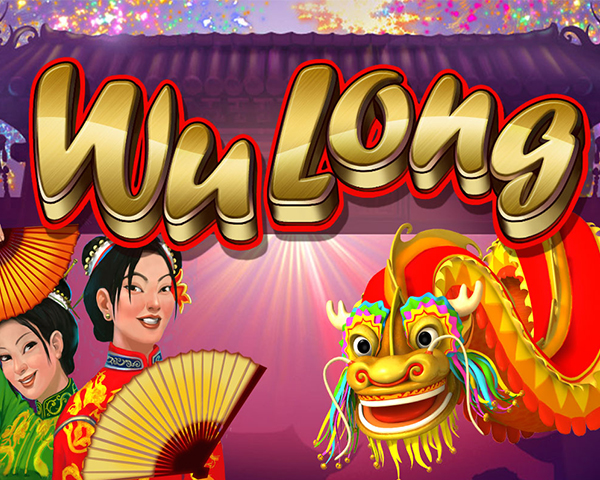 Our Verdict
What we like
Unique take on Asian - themed slot game
Free spins with variable multipliers
Trigger more free spins easily
Easy and rewarding gameplay
What Can Improve?
Theme can feel overdone
RTP % could be higher
100K Free Coins & 200 Free Spins Bonus with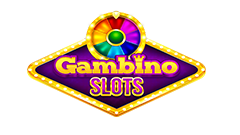 Play For Real Money
About Wu Long
Asian - themed slot games seem to be a dime a dozen at online casinos, with most of them having a similar look and feel. While Wu Long does fall into that trap to some degree, by focusing primarily on Chinese New Year and dragons, it avoids the pitfalls of the usual panda - themed slot. Plus, the fireworks go off and you'll be super excited when you land that bonus round.
No need to get on a plane to visit China, you can get the vibe by spinning the reels of Wu Long in the comfort of your own home.
If Wu Long's free spins and big wins don't get you excited for Chinese New Year, nothing will.

- Claire Fraser, Senior Editor
Cool symbols and sound effects
Free spins offer multipliers
Easy to retrigger yet more free spins
Win up to 2500x your wager on a single line
The Dragon will bring you luck and prosperity in Wu Long, along with 12 free spins. As you experience the free spins, finding more Dragon symbols will increase your multiplier, taking you up to a maximum of 6x multiplier on wins. If the Dragon doesn't appear with the follow spin, your multiplier will go back down, which means that finding more and more Dragons will get you more and more excited.
There's another reason to be thrilled when the Dragon appears during your free spins, as finding 2 or more Dragon symbols adds to your free spins. Two Dragon icons add 2 free spins, with 3 symbols adding 4 spins, 4 icons adding 8 spins and finding 5 dragons across the reels will give you an additional 12 free spins. Combine that with the aforementioned multipliers, and the Dragon truly will become your new favorite symbol.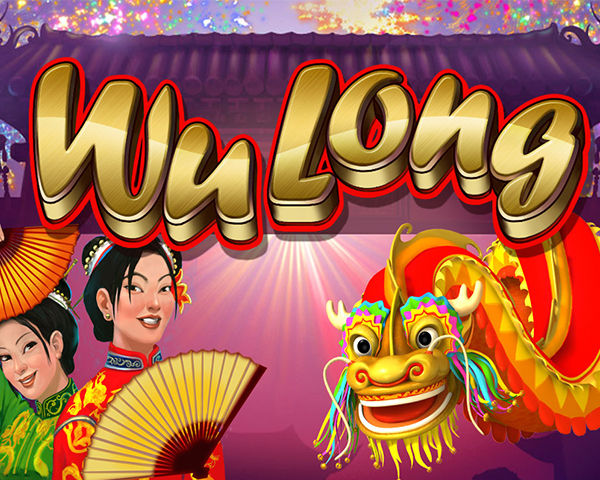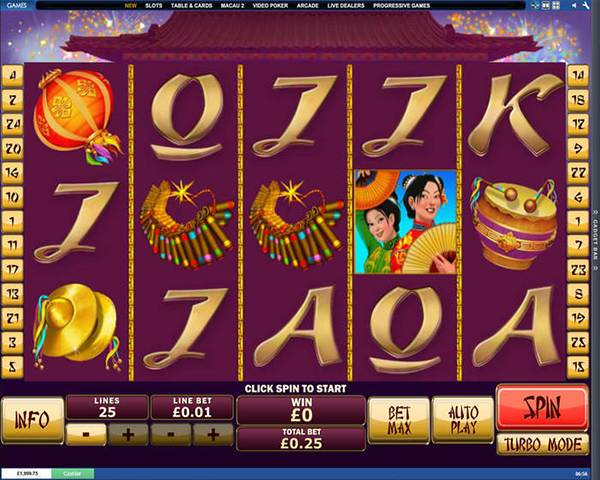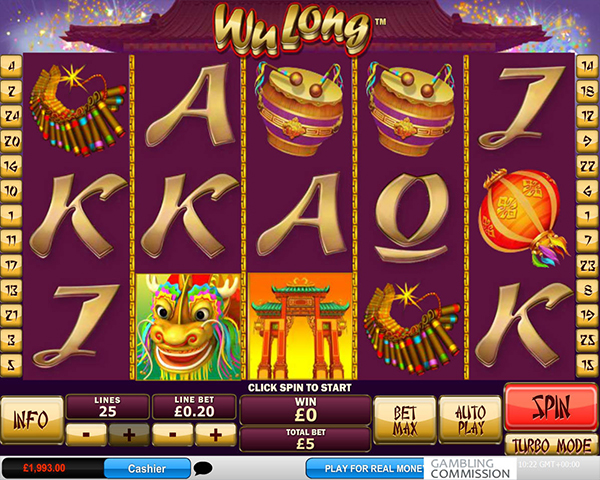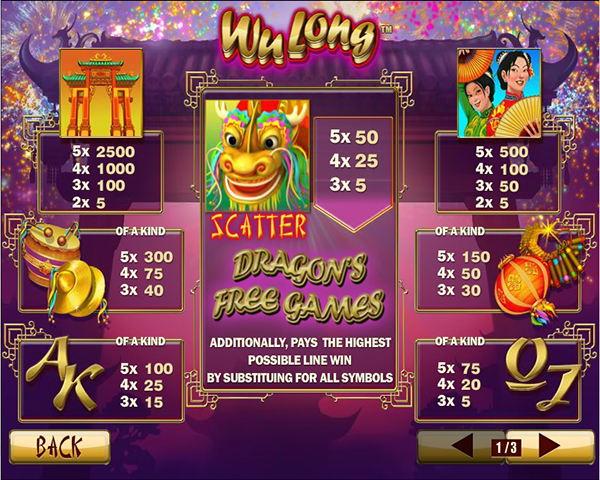 Where To Play Wu Long
Wu Long is quite a popular one, which means it'll be available at most online casinos offering Playtech titles. You'll be able to download the software to your device if you like, or else you can play instantly in your browser. No matter how you choose to play, you'll get access to the same great gameplay, including the stellar free spins and immersive sound effects.
How We Review
When you prepare an online slot review, we assess a variety of different elements of the game. Some of the aspects include:
Graphics & Design: How does the game look and feel? Is it visually impressive, or does it use classic-style symbols? What does the soundtrack add, and does it become irritating over time?
Bonuses & Extras: While everyone likes to win big from the spinning reels, players also like to feel like they're getting something extra. What does this game add to make it special and reward players.
Volatility: Will you get frequent small payouts, or less frequent wins but bigger sums of cash when you're lucky? Both have value, and players should know just how volatile a slot is when they play.
Return to Player (RTP): Slots are exciting and fun, but they also need to pay out often enough. How much can you expect to win and lose in the long run with a given slot game?
Free Spins and Multipliers
The biggest wins are to be found during the free spins bonus round thanks to the 6x multipliers and multiple free games. It's easy to recover any losses that you might have accrued during the base game because the free spins retrigger easily and add multipliers when they land. As a result, you'll want to play until you hit a bonus to make sure that you win the biggest possible payout.
Graphics and Design
The designs in Wu Long are fairly simple, using images of a Chinese arch, as well as ladies with fans, drums and symbols, paper lanterns and fireworks. The reels are padded out with playing card symbols, although they are at least redesigned to have a more Asian-inspired form of calligraphy. The best-looking symbol on the reels is also the most exciting, with a beautifully rendered image of a Chinese Dragon. The sound effects are excellent in Wu Long, though, with fireworks and music fitting the theme perfectly.
Payouts and Prizes
You'll get the biggest payout from the Chinese arch that offers 2500x your wager when you find 5 along a payline. The next highest paying symbols give out 500x, 300x and 150x. With players able to wager anywhere from $0.01 per line up to $100, you could win a massive payout of $2,500 for a single big line win.
Play on Mobile
When you play Wu Long on your smartphone or tablet, you'll be able to spin the reels from the palm of your hand. Whether you like to play at home or on the go, you'll get the freedom of playing when you like and where you choose. Plus, by visiting your favorite online casino, you can continue to use your same account no matter what platform you like, switching easily from computer to mobile and back again. You can even use the same wallet and access your VIP progress.
Playtech prides itself on giving players the best experience possible on mobile devices. They were even the first developers to offer their games on smartphones and tablets. Their no download Wu Long works well on all modern platforms, including iOS, Android, Windows, Kindle Fire and BlackBerry. But it's still good to remember that developers always focus on the most popular platforms first, which is why apps are usually first released for iOS and Android.
No matter where you choose to play, however, it's best to always stay aware of your surroundings. Mobile casinos can be secure, but you'll still need to be careful and avoid making sensitive transactions on open WiFi networks.
100K Free Coins & 200 Free Spins Bonus with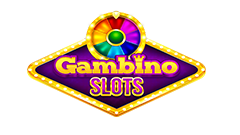 Play For Real Money
Play Wu Long Online Today
Playtech's Wu Long shows that not all Asian-inspired slot games are the same, with this Chinese New Year theme making this a truly fortunate experience. You'll be delighted by the fireworks and the free spins, especially as they just keep retriggering and bringing ever higher multipliers and payouts. Visit one of our top - rated online casinos of September 2023 and start playing Wu Long today!