Cat Queen Review
Would you like to go back in time to Ancient Egypt to see the wonders of the pyramids and enjoy some fun cat worship? Simply load up Cat Queen and you'll get the rewards of a stellar slot game with excellent payouts, along with the chance to become immersed in that ancient civilization. With a rewarding bonus round and excellent graphics, this game is definitely worth a try.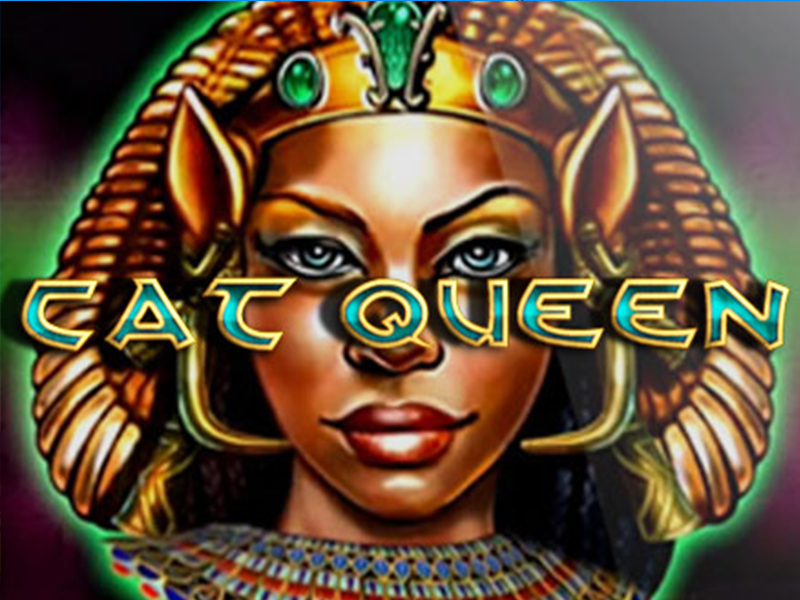 Game Info
Theme
Egyptian Icons, Cats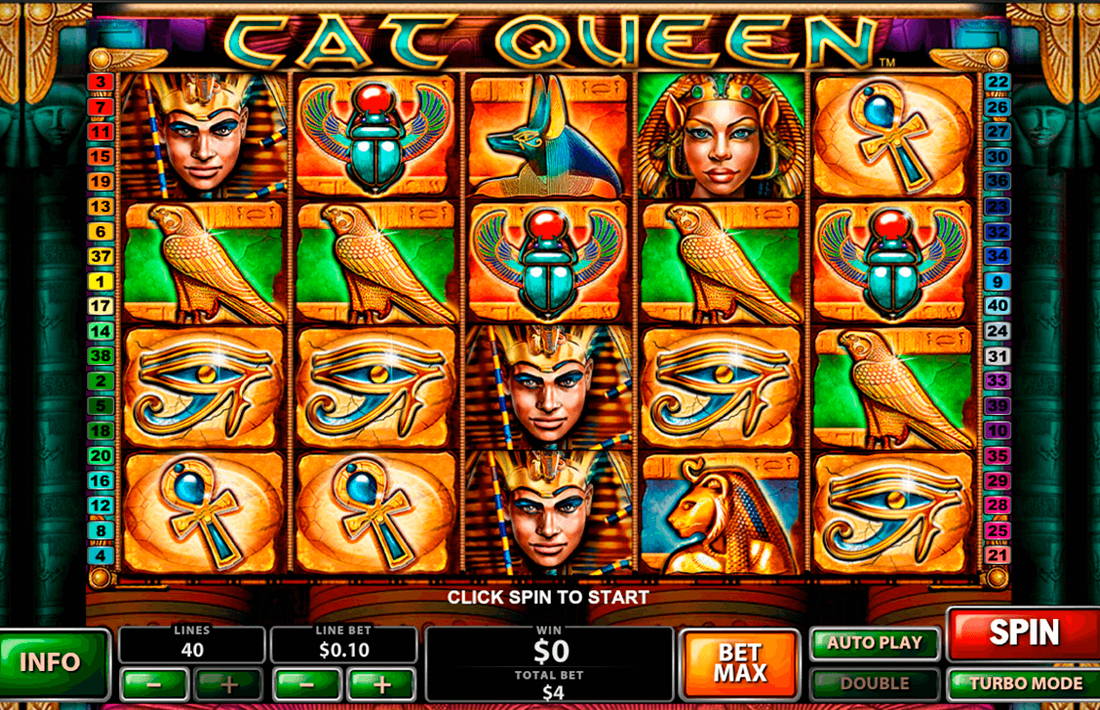 Our Verdict
Spin the reels and win big in this slot filled with Ancient Egyptian imagery.
What we like
All unique and immersive symbols and design
Free spins that can retrigger
Big payouts for small bets
Entertaining and lots of fun
What Can Improve?
RTP % is rather low for a non - progressive game
Trigger free spins can take some work
100K Free Coins & 200 Free Spins Bonus with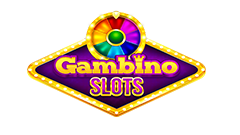 Play For Real Money
About Cat Queen
Much like other Egyptian - themed slot games, you'll see some excellent symbols on the reels of Cat Queen. We're pleased to see all unique symbols here, so you can enjoy the full immersion of the spinning reels. There's also a pretty good soundtrack that adds some excitement, although it's a bit generic and can get rather grating after a while. With the excellent payouts and an exciting free spin bonus, however, you'll definitely want to keep spinning the 5 reels to find more.
Enjoy the ancient thrills in this modern, 40 payline slot game.
A gorgeous slot that will transport you to Ancient Egypt, you'll understand their fascination with cats when you win big.

- James Hadley, Editorial Assistant
Rewarding free spins that can retrigger
Wilds add even more wins
Symbols are stacked to fill the reels
Stunning graphics and design
Spinning the reels of Cat Queen means spending much of your time searching for the Pyramids. 3 or more of these historic symbols will trigger a free spin bonus. This gives you 15 free spins. With stacked symbols and the inclusion of plenty of wilds, those free spins can be remarkably lucrative. Plus, they are absolutely exhilarating.
It's worth noting that this is a low volatility slot, which means that you'll win often, but at lower amounts. Some players like this because your bankroll will stay afloat for a lot longer. However, if you're looking for those incredible payouts where you rake in a massive jackpot from a single spin, this game simply can't give you that. All levels of volatility have value, but Cat Queen will appeal to players who like to win a lot, even if the payouts aren't out of this world.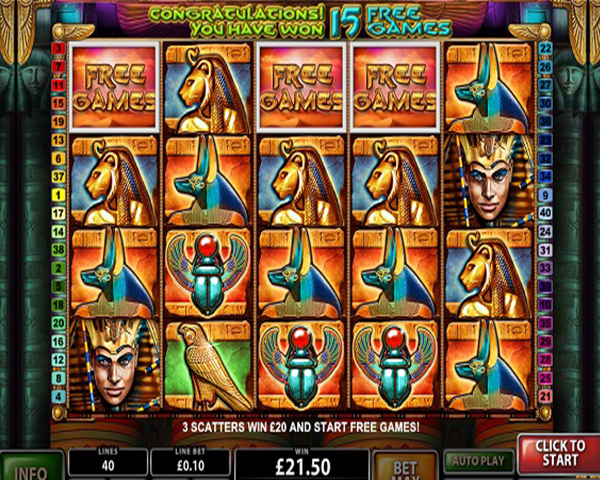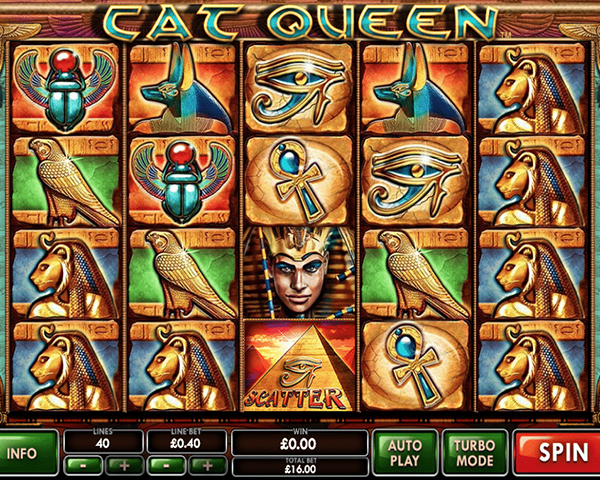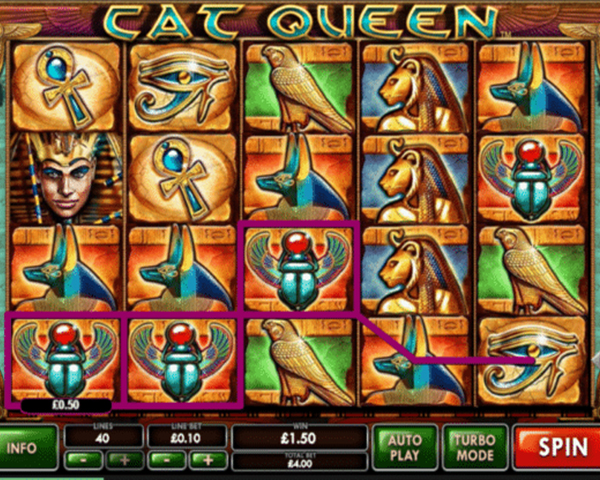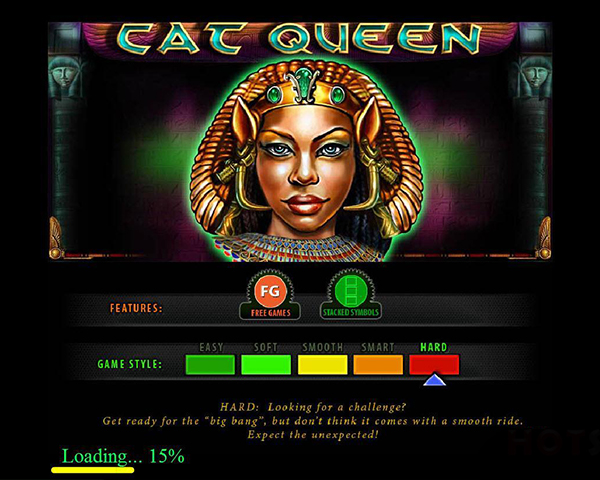 Where To Play Cat Queen
You can enjoy playing Cat Queen at a variety of excellent online casinos that offer Playtech titles. You'll be able to choose to download the software to your computer or mobile, or you can even play in a browser if you prefer. Either way, you'll get the same great experience.
How We Review
In order to keep all our slot reviews consistently detailed and unbiased, each assessment is based on a variety of elements. Some of these include:
Graphics & Design: How does the game look and feel? Does it use all unique symbols to add to the immersion? What part do the sound effects play in making the game enjoyable?
Bonuses & Extras: What does the game give players to make them feel extra rewarded? What special mini games or extras can players expect?
RTP%: Slot games are exhilarating and fun, but they also need to payout regularly. How much can you expect to win or lose playing this slot?
Compatibility & Availability: Will this game work across a range of platforms? How hard is it to find this slot at the best casinos online?
RTP% (Return to Player)
You should be aware that the RTP% on this slot is relatively low for a slot game that doesn't offer a progressive jackpot. At only 93.6 %, this means that for every $100 that you play, you can expect to get $93.60 back. These amounts are calculated across thousands of spins and are a statistical indication, so some of you might fare better while others might experience worse. Still, with other slot games offering higher RTP, this might be a game to play on the days you feel that luck is on your side.
Graphics and Design
Cat Queen is a newer slot release by Playtech and features some truly excellent graphics and animation. Each symbol is unique, and we're pleased to see that the reels aren't padded out with playing-card symbols as is most commonly done with slot games. Instead there are gorgeous Egyptian icons used across the reels, and they even have mini animation when you win. With slick spins and clear wins, this is definitely a joy to behold.
Payouts and Prizes
Playing Cat Queen means winning often. While the payouts might not be quite as high as you'd find at other slots, with the maximum win on a single line sitting at 1,000 coins, you'll hit these wins more often, keeping your bankroll afloat. The lowest paying icons still dish out 100 coins, so you can be pleased with the wins from the less valuable icons. The biggest wins come from the free spins, which trigger at 15 free spins and can be retriggered for even more payouts.
Play on Mobile
The joy of visiting Ancient Egypt and spinning the reels of Cat Queen whenever you want on your mobile is truly a freeing experience. When you visit your favorite online casino, you can switch seamlessly from mobile to computer and back again, all while using the same account, wallet and VIP points.
As the first developers to bring their games to mobile devices, Playtech know how important it is to work on all platforms, which is why their games work well with most modern devices such as those running iOS, Android, Kindle Fire, Windows and BlackBerry. Having said this, it's still good to remember that the more popular platforms will get more support, so you can expect iOS and Android to be the first to get any apps produced.
Playtech doesn't stop there. Cat Queen looks great on screens large and small, with controls adapted for touch screens so that they work well with the tap and swipe of your fingertips.
Despite the ease and comfort of playing Cat Queen on the go, it's still good to be aware of your surroundings while you play and be sure not to conduct sensitive transactions using an open WiFi connection as it might not be secure.
100K Free Coins & 200 Free Spins Bonus with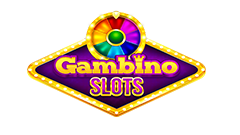 Play For Real Money
Play Cat Queen Online Today
Cat Queen online slot is a high - quality game full of excitement and guaranteed fun. The game is gorgeous to behold and adds plenty of regular wins along the way. While we wish the RTP % were higher, we're sure that the stunning theme and exhilarating free spins will attract many of you to play this Ancient Egyptian-themed game, as it should. Start spinning the reels at one of our top-rated online casinos and see if this game makes you purr.