Age of the Gods - Furious 4 Review
When Playtech converted their popular Marvel slots into Age of the Gods slots games, they took things to a whole new level, with the Fantastic Four game turning into Furious 4. But this isn't simply a visual redesign. The mechanics and bonuses have been improved too, making this a truly incredible game, particularly for players who love free spins.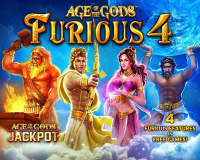 Game Info
Theme
Greek, Gods and Goddesses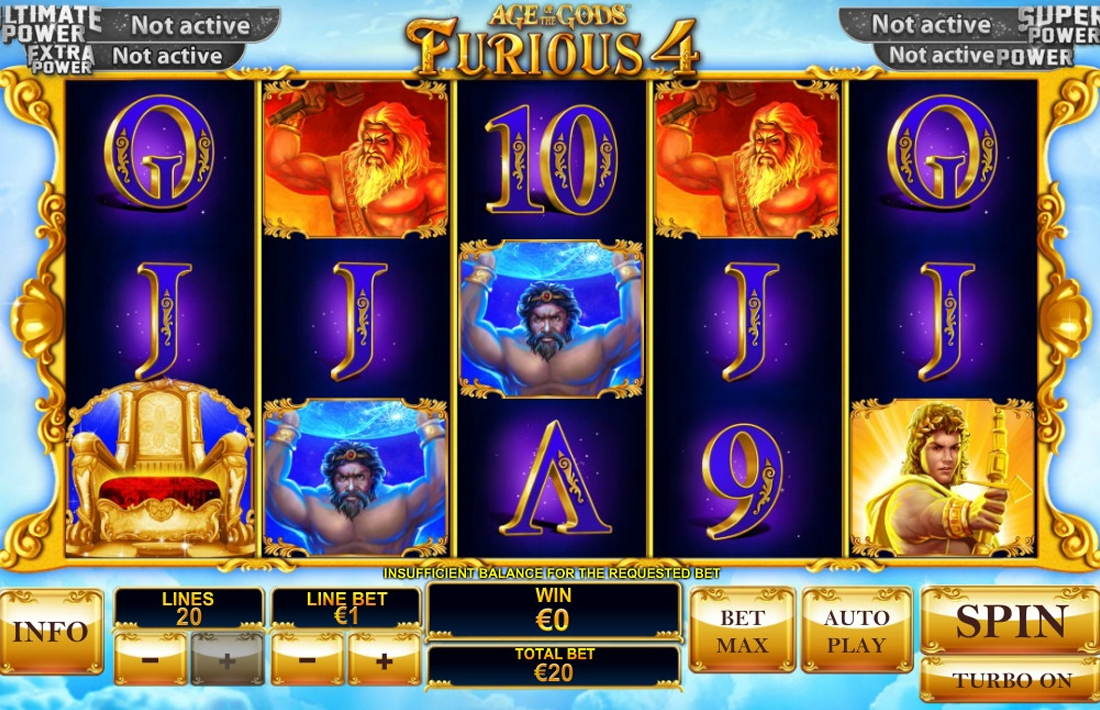 Our Verdict
Apollo, Pandora, Hephaestus and Atlas might not be as well known, but they are incredibly generous Greek Gods.
What we like
Varied and rewarding bonuses
Gorgeous design and animation
Wide betting options for penny players or high rollers
Life - changing progressive jackpot
What Can Improve?
Lower RTP % than other Age of the Gods slots
Playing - card symbols instead of all unique icons
100K Free Coins & 200 Free Spins Bonus with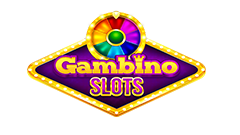 Play For Real Money
About Age of the Gods - Furious 4
The base game for Age of the Gods - Furious 4 looks like a fairly standard 5 reel, 20 payline slots game, but it actually goes way beyond that. It has stunning images on the reels and some incredible and varied bonuses. With such great visuals and a lucrative jackpot, it's easy to see why this is such a popular slot.
Each of the 4 gods bring something unique to the experience too, and we guarantee you'll be excited to find each and every one of them.
With bonus spins, and then even more bonus spins with extras, this slot offers huge variety and rewards.

- Claire Fraser, Senior Editor
4 unique extra bonuses
Even more free spins
Wilds, sticky wilds and multipliers
Lucrative progressive jackpot
When you find 3 scatter symbols across the reels, you'll get 12 free spins with each of the 4 god symbols stacked on the third reel. If they land and cover the whole reel, they trigger extra features. What makes this particularly appealing is that they add extra spins with unique modifiers, but you'll still return to your core bank of free spins. This gives you the chance to trigger each of the incredible extra bonuses.
Finding the stack of Apollo symbols gives you 4 extra spins with the Apollo symbol now wild and expanding to cover the reel. Pandora triggers the Age of Curiosity with 4 extra spins and every time a Pandora symbol appears, the multiplier goes up by one. Hephaestus' Age of Fire covers the first reel with a Hephaestus symbol and turns all other high paying symbols into that same god for 4 extra spins. Atlas gives you 3 extra spins and turns Atlas into a wild that remains on the reels for all 3 spins.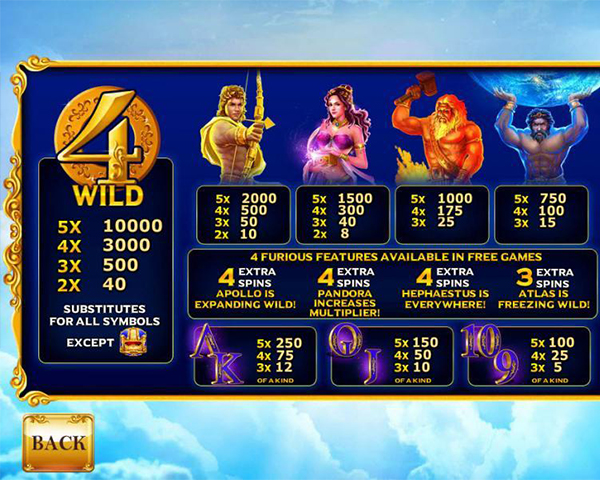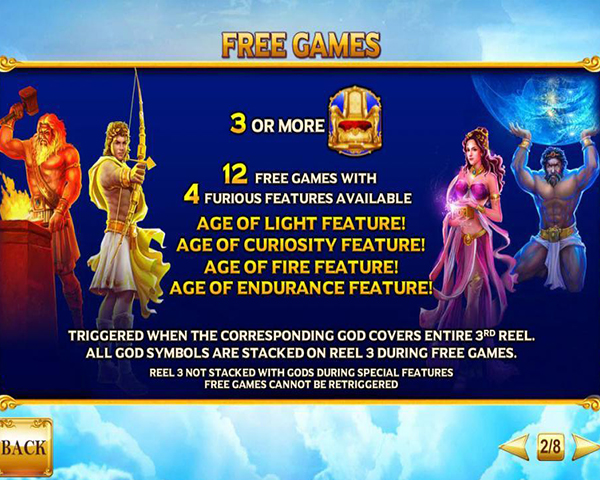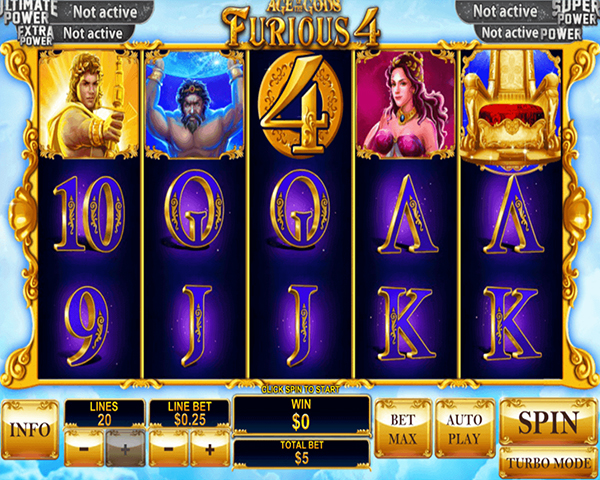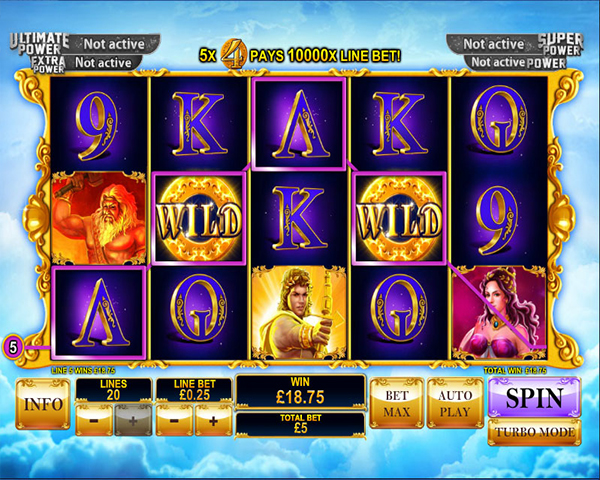 Where To Play Furious 4
Because it is such a popular slot and showcases what makes the Age of the Gods franchise so special, you'll be able to find Furious 4 at numerous online casinos powered by Playtech. You can download the software or app or enjoy a no download version in your browser. Either way, you'll get to play the same great game and have access to that huge progressive jackpot.
How We Review
Every slot review is based on a range of criteria. We look at many different aspects, including:
Payouts & jackpots: You've got to play to win, but just how much could you win when playing this game? Are all the wins focused in the jackpot, or can you get decent payouts along the way.
Bonuses & extras: The core slot action needs to be fun, but we know you also love something extra. From free spins to wilds, multipliers to special features, we aim to find out what makes a game unique.
Compatibility & accessibility: Can you play this game at different sites and platforms? Will it work as well on your smartphone as it does on a computer.
RTP %: We know that slot games give you tons of excitement and fun, but they also need to pay out at a consistent level for us to be impressed. How much can you expect to win and lose with this game?
Progressive Jackpots
One of the main reasons people play the Age of the Gods slot games is the progressive jackpot. There are 4 jackpots available, ranging from hundreds up to hundreds of thousands of dollars. When you enter the jackpot round, you're guaranteed a win, so no matter what happens, you'll get a great payout. Of course, you'll be hoping for the Ultimate $650,000 Jackpot that hits every six weeks on average.
Graphics and Design
Featuring crisp design and animation, Age of the Gods - Furious 4 is truly a showcase of what makes Playtech games so great. The high production level is apparent in the clear and visually impressive icons and symbols, as well as the fabulous animation. The soundtrack is subtle enough to avoid being irritating or abrasive, while still contributing to the vibe and creating excitement and immersion. While we always wish games would forgo the playing - card symbols and use all unique designs instead, it does mean that it's easier to see the gods when they bring the big wins.
Payouts and Prizes
The pay table for Age of the Gods - Furious 4 is very generous, with top payouts for all the unique symbols, and excellent winnings to be found even at the bottom of the pay table. If you find 5 wild symbols across a payline, you'll get a whopping 10,000x your wager, with Apollo paying out a shining 2,000x, Pandora revealing 1,5000x, Hephaestus forging 1,000x and Atlas holding up 750x winnings. This is all before you even consider the incredible multipliers and extras you'll get in the free spins bonuses!
Play on Mobile
You can spin the reels when and where you like when you play Age of the Gods - Furious 4 on mobile. Playing at one of the best online casinos makes it easy for you to switch from computer to mobile and back again, all while using the same account, wallet and VIP progress. Playtech works hard to constantly improve its software, focusing on mobile integration and apps to ensure that all smartphone and tablet players have the best experience.
Developers do always focus on the most popular systems first, though, so Android and IOS devices will get apps first. But don't worry, thanks to HTML5 and instant play, you'll also be able to use most Windows, Kindle Fire or BlackBerry smartphones and tablets.
If you don't want to download any apps, you can also play the no download Furious 4 version from your browser. This version works well on almost any modern mobile device.
No matter what version you choose to play, it's always best to be aware of your surroundings if you're playing while on the go and avoid making transactions on open WiFi networks.
You'll also be happy to hear that the controls are adjusted to work well with the tap and swipe of your fingertips on the touch screen.
100K Free Coins & 200 Free Spins Bonus with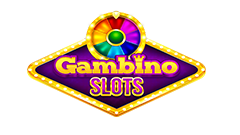 Play For Real Money
Play Age of the Gods - Furious 4 Online Today
This Age of the Gods - Furious 4 has many aspects that make it such a popular game in December 2023. With excellent payouts, exciting and rewarding bonuses and a potentially life - changing progressive jackpot up for grabs, you're sure to enjoy every spin of the reels. So, what are you waiting for? visit one of our top-rated online casinos today and start winning big with these Greek Gods and Goddesses!