Gladiator Slot Review
Gladiator was a popular movie back in 2000 when it was released, but the slot's appeal has endured thanks to a number of other factors. With stunning design, enthralling mechanics, rewarding bonuses and a truly lucrative progressive jackpot, you'll definitely enjoy this one!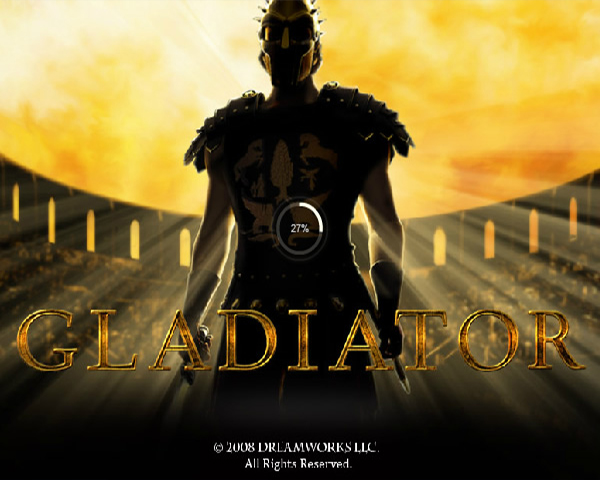 Game Info
Theme
Roman, Gladiator, Movie
Our Verdict
Enter the Colosseum as you spin the reels and battle it out for the incredible rewards worthy of Maximus.
What we like
Exciting and rewarding bonuses
Stunning design with scenes from the movie
Wide range of betting options
Life - changing progressive jackpot
What Can Improve?
Bonuses can take a while to hit
RTP could be higher
100K Free Coins & 200 Free Spins Bonus with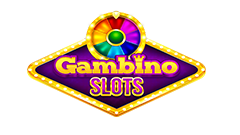 Play For Real Money
About Gladiator
This 5 - reel, 25 payline video slot uses the popular Ridley Scott movie as its inspiration. You'll see some familiar faces from the movie itself, like Joaquin Phoenix's Commodus, but there isn't any sign of Russel Crowe's character. Don't worry, though, you won't even miss him as you become the gladiator yourself and fight for some massive rewards.
Excellent payouts come in the Colosseum in ways that are sure to exhilarate you.
Even though the movie came out in 2000, the slot game still feels fresh and exciting.

- James Hadley, Editorial Assistant
Gorgeous symbols that animate with big wins
Cut scenes from the movie add immersion
Free spins with extra wilds
Instant cash prizes
One of the biggest appeals of this game is in the incredible progressive jackpot, but players might be surprised by all the great wins in the base game, too. You'll find regular payouts during your normal spins, plus extras thanks to wilds that appear across the 5 reels. The free spin bonus round can offer up to 25 free spins with a 3x multiplier and extra wilds or scatters, leading to some truly impressive payouts.
Gladiator also lets you choose from a wide betting range, so whether you want to play it as a penny slot, or you're looking to wager over $1000 with every spin, you'll be able to get exactly the kind of action you're looking for. Either way, you'll be able to rake in some serious cash while waiting for that lucrative progressive jackpot to hit.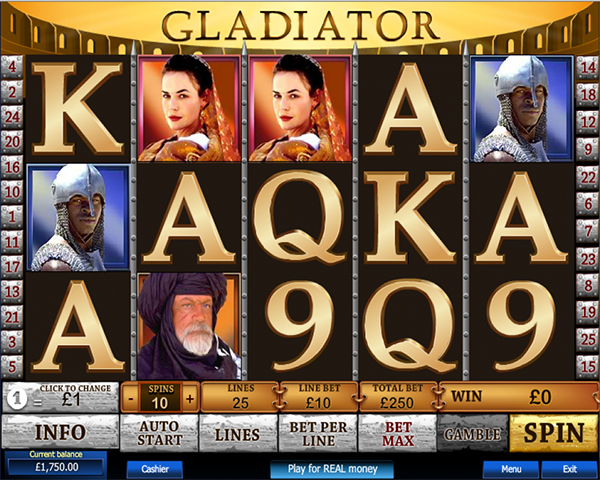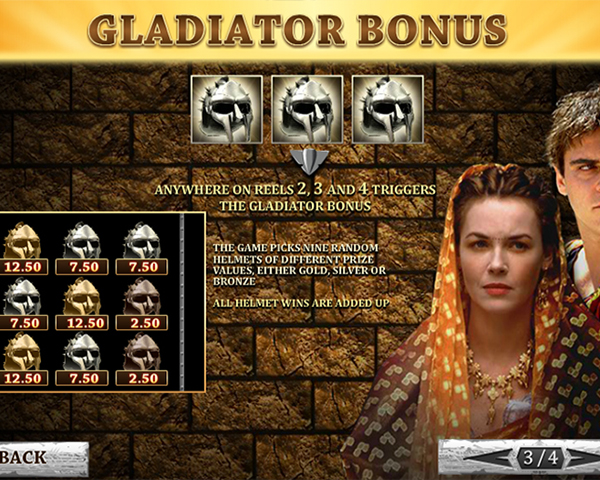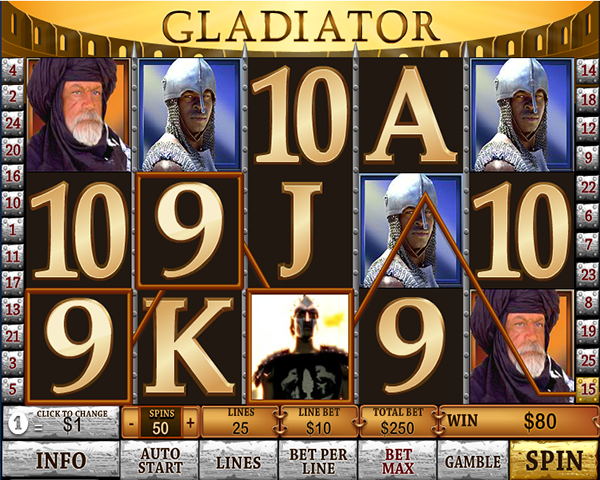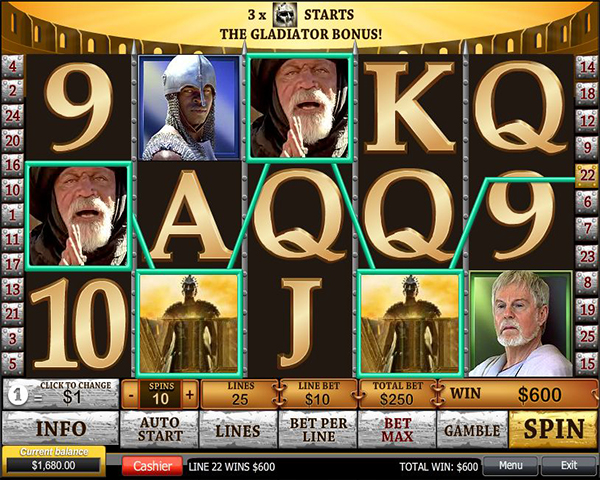 Where To Play Gladiator
Gladiator is such a popular slot that you'll find it at a wide range of excellent casinos featuring Playtech games. You'll be able to download the software to your device or play instantly in your browser if you prefer. The no download version offers the same great experience, and both variations are linked to that incredible jackpot.
How We Review
We assess a wide array of elements when preparing online slot reviews like this one. Some of the key criteria we consider include:
Compatibility: Is this title optimized for all devices, or can you only play on a computer? How well does it work and how much data does it need?
Return to Player (RTP): Slots are entertaining and exciting, but they also need to do more than just take your money. We assess just how much and how often the game in question pays out.
Graphics & Design: If all you cared about were the numbers, you could just press a button and be told win or lose. The thrill of a slot comes from watching the symbols spin and enjoying the incredible animation or graphics.
Bonuses & Extras: The core gameplay of spinning slots is exciting, but players are always happy to hear free spins, multipliers, wilds or scatters. We evaluate the extra elements games add to distinguish this title from other slot games.
Symbols
The progressive is a true feat of strength, with a colossal payout. If you get 3 helmet icons on the reels, this will take you to a mini-game filled with yet more helmets. If you find 9 gold helmets, you win the massive jackpot. The jackpot usually pays out over $1,200,000, although it has gone as high as $3,200,000 and as "low" as $173,000. It hits every 13 weeks on average.
Graphics and Design
Gladiator benefits from some of the incredible visuals that you'd expect from a movie tie - in slot game, with the likenesses of famous actors and characters spread across the reels. There is some slick animation as the reels spin, with movie clips during winning combinations as well as film - quality sound effects and sound track. All of these elements come together to make the game immersive, exhilarating and truly stunning.
Payouts and Prizes
Despite being a progressive slot, there are still excellent payouts to be found in the base game. Finding 5 Commodus icons across the reels will give you 5000 coins, with other top paying icons giving 1000, 350 or 250. Add to this the wilds that make wins more frequent and you'll find some great wins, even during the core gameplay. Of course, bonuses take this even further, giving you free spins that can be retriggered, along with extra wilds, scatters and multipliers to make the payouts truly impressive.
Play on Mobile
Playing Gladiator on your smartphone or tablet means that you can journey to the Colosseum and stand a chance to win big no matter where you are. When you use your favorite online casino, you can continue to use your account, wallet and VIP progress no matter what platform you use to play.
Playtech works tirelessly to ensure their games work across all platforms, including your iOS devices, as well as Android.
It is good to remember that Gladiator is a visually impressive slot game, which means that it uses data to deliver those film clips and sound effects. This can make the game quite data heavy, although only when loading it. As a result, you will be best served by either downloading the app so that you only need to use that data once, or only play when you're on WiFi to reduce any data charges.
The no download Gladiator slot game, as well as the app, runs well with controls that are optimized for the tap and swipe of your fingertips on your touch screen. It's still good to remember that while mobile slot games are secure, you should always avoid open WiFi connections when you're making secure transfers.
100K Free Coins & 200 Free Spins Bonus with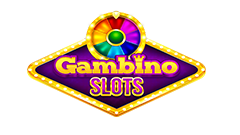 Play For Real Money
Play Gladiator Online Today
It's clear that Gladiator is an exhilarating game that is still popular years after the movie hype has faded away. You'll enjoy all the exciting gameplay and rewarding bonuses, plus there's the chance of that life - changing progressive jackpot. With so many excellent payouts and rewards, as well as slick animations and a great soundtrack, we're sure that this will be a new favorite slot game for fans and newcomers alike. Grab your Caesar-worthy winnings today when you spin the reels at one of our top-rated online casinos.