Age of the Gods - King of Olympus Review
When the partnership with Marvel ended, Playtech retooled some of their older slots to work with a new theme of Age of the Gods, with King of Olympus replacing the Iron Man 2 slot. However, this is not simply a replacement. The new game is truly unique and rewarding in itself.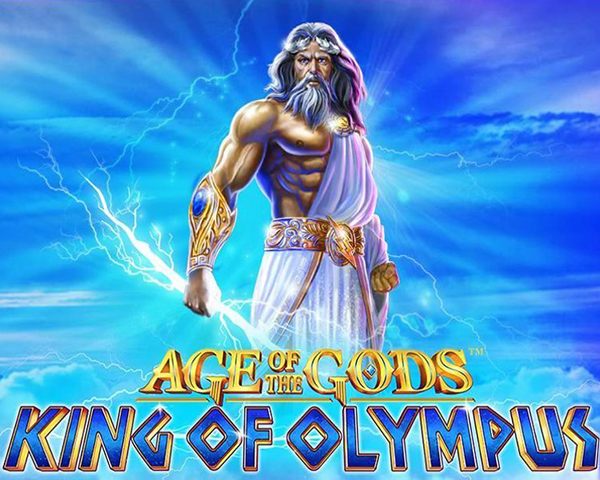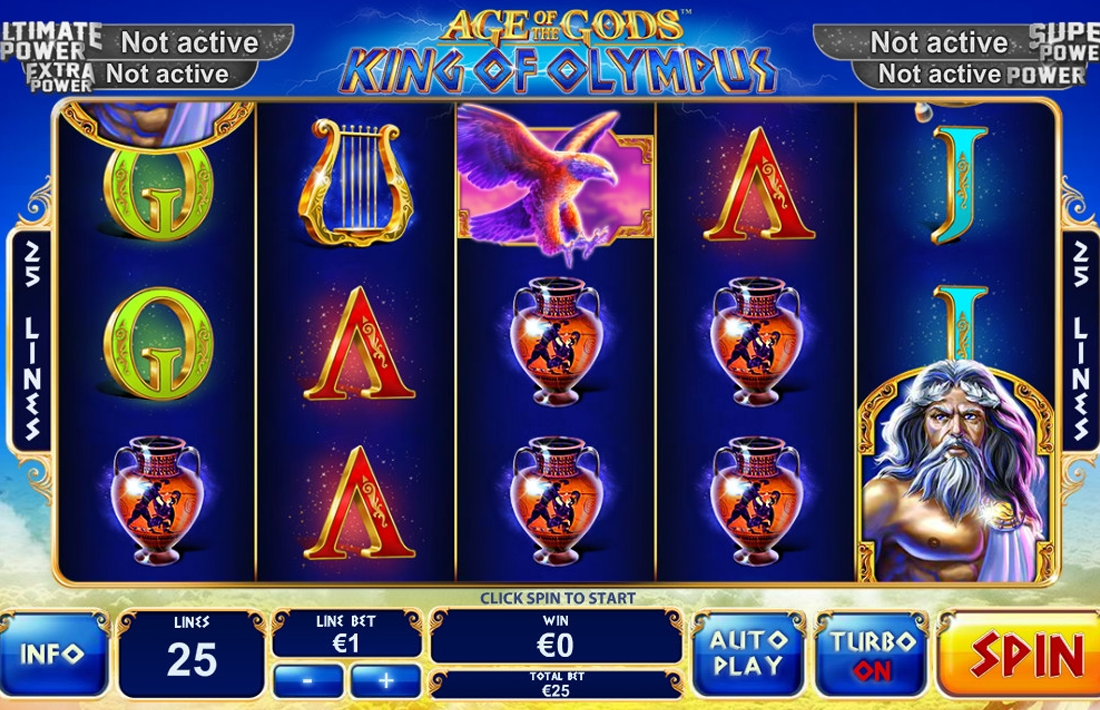 Our Verdict
What we like
Bonuses include free spins, multipliers and sticky wild
Stunning design and animation
Wide betting range for all bankrolls
Lucrative progressive jackpot network
What Can Improve?
Reels use playing-card symbols
Similar theme to many other slots
100K Free Coins & 200 Free Spins Bonus with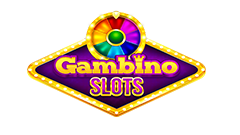 Play For Real Money
About Age of the Gods - King of Olympus
With so many other Zeus - themed slot games out there, you might wonder what sets this 5 - reel slot game apart. First of all, it's part of the Age of the Gods franchise, which means that you'll get access to the incredible progressive jackpot. But there's actually a whole lot more to this game that distinguishes it from others in the franchise and makes it a truly exciting and rewarding experience.
Play with Zeus when you spin the reels of King of Olympus.
This slot doesn't just make you wish for the progressive jackpot, it pays out huge amounts with an exhilarating bonus.

- James Hadley, Editorial Assistant
Bonus round hits often
Free spins with multipliers and sticky wild
Excellent payouts in base game
Lucrative progressive jackpot regularly exceeds $600,000
The bonus round from King of Olympus is similar to the Zeus bonus that you might find during the original Age of the Gods slot game, but even better. Whenever you find 3 scatter symbols across the reels, you'll get 10 free spins starting with a 2x multiplier. Every 2 spins, the multiplier increases by 1, potentially giving you massive payouts, especially as you near the end of the bonus round.
Zeus himself stays in the middle of the third reel as a wild for each spin, giving you more chances to win. With that position, all you need are some decent results in the first reel or two and you'll reap incredible rewards. We've seen some huge payouts thanks to a wild appearing on the first reel, giving 5x icons and lucrative payouts.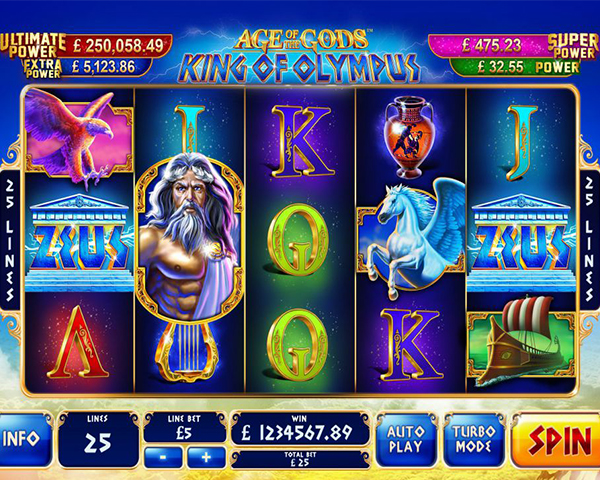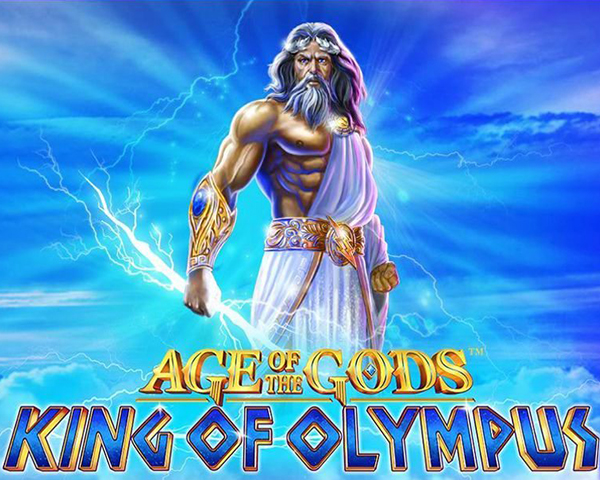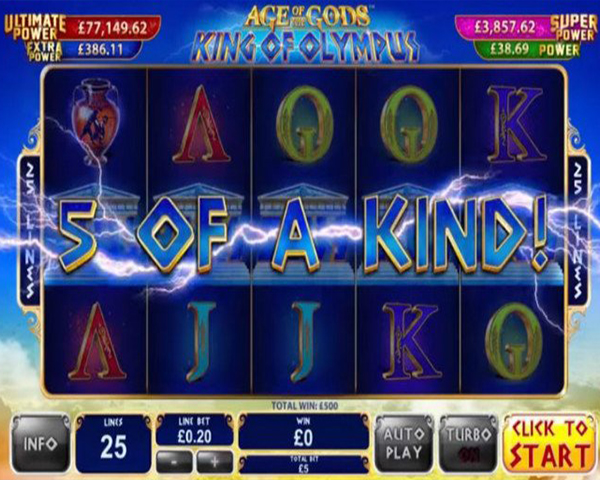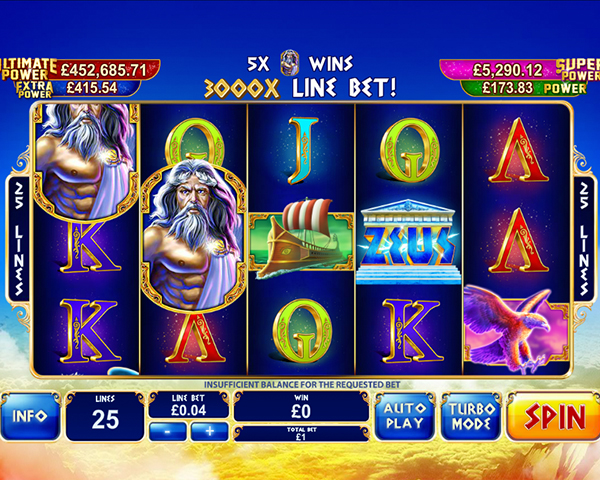 Where To Play Age of the Gods - King of Olympus
As one of the most popular slots in the Playtech stable, you'll find King of Olympus at numerous online casinos. You can download the software to your device or play the no download version in your browser. Either way, you'll get access to the same great game, and that life-changing progressive jackpot.
How We Review
All of our slot reviews are carefully evaluated using a variety of criteria. Some of the aspects that we assess include:
Graphics & design: The look and feel of a slot game is so important, which is why we consider the symbols, animation, sound effects and general gameplay style. Just how visually stunning is the game, and how immersive is the experience?
Bonuses & extras: Who doesn't love free spins? Games that give players something extra, beyond the core spinning reels are always popular, and we see which of these bonuses are truly worthwhile.
Payouts & jackpots: Everyone dreams of winning big and changing their lives, but just how much can you win in this slot game? Are there enough payouts along the way, or is all the money in the big prize.
Compatibility & availability: Can you play on mobile devices? How hard is the game to find at the best online casinos?
Progressive Jackpots
One of the main appeals of this franchise comes from the progressive jackpot. While we mostly reference the largest one, there are actually 4 jackpots. As a result, if you make it to the jackpot round, you'll always win something. Of course, everyone wants to win the Ultimate Jackpot, paying out an average of over $650,000 every six weeks.
Graphics and Design
Age of the Gods - King of Olympus features crisp design and stunning animation. Each icon is clear and stunning, with the bonus animation adding something extra special. There's also a fantastic soundtrack that helps to build excitement and immersion, while never being so apparent that it becomes irritating. We do wish that the game had gone a bit further and utilized all unique symbols instead of the playing-card icons, but it does make the big wins with the special symbols that much more exciting.
Payouts and Prizes
The special icons hold some serious payouts in King of Olympus, with the best being from the king himself, of course. If you find 5 Zeus symbols across a line, that's a payout of 3,000x your wager. Pegasus brings you 1,000x, eagle 600x with the ship and lyre paying out 400x and 200x your wager, respectively. Because the Zeus symbol also serves as a wild, you'll find numerous wins across the reels, even during the base game. The bonus round, with free spins, multipliers and a sticky wild, take this to the next level and give you even bigger payouts.
Play on Mobile
When you play Age of the Gods - King of Olympus on mobile, you'll get to spin the reels from the palm of your hand. You can play at your preferred online casino and switch seamlessly from computer to smartphone or tablet, all while using the same account, wallet and VIP progression.
Playtech works tirelessly to improve their software, with a particular focus on giving mobile users the best possible experience. It's good to remember that developers prioritize popular platforms first, which is why iOS and Android usually get apps first. However, thanks to HTML5 technology and instant play, you'll also be able to use a Kindle Fire, Windows or BlackBerry smartphone or tablet.
If apps don't interest you, you can also enjoy no download King of Olympus right now on any modern mobile device. Be careful of your surroundings, however, and avoid making secure transactions on open WiFi networks.
Adding another plus, the game has been tweaked for mobile, so it works perfectly with the tap and swipe of your fingertips on the touch screen.
100K Free Coins & 200 Free Spins Bonus with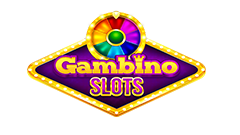 Play For Real Money
Play Age of the Gods - King of Olympus Online Today
This Age of the Gods - King of Olympus is a truly rewarding and exciting game, with an exhilarating bonus round. This god of thunder brings the bonuses often. With a lucrative progressive jackpot up for grabs, and plenty of consolation jackpots in case you don't hit that biggest prize, you can really win big with this slot game. Visit one of our top - rated online casinos today and start spinning the reels with this generous Greek God.