Wild Times Review
On the surface, Wild Times might look like a standard 3-reel fruit machine, but with so many extra features, it's actually closer to a modern video slot. In keeping with Barcrest's special features, you can place Big Bets to beat the house edge and prepare to win big. While the spinning reels themselves are definitely based on classic styled fruit machines, this game offers extra paylines and many more special elements that bring it into the modern era.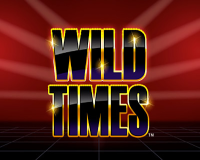 Game Info
Theme
Classic, Fruit, Bells
Our Verdict
Don't be fooled by that fruit machine exterior, there's a much wilder time waiting for you in this game.
What we like
Change your bets to beat the house edge
Additional wilds and multipliers
Wide betting range for a variety of bankrolls
Extra paylines give you more ways to win
What Can Improve?
High volatility means infrequent payouts
Theme won't appeal to all
100K Free Coins & 200 Free Spins Bonus with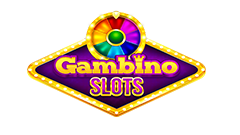 Play For Real Money
About Wild Times
At first glance, this game looks like a traditional fruit machine, complete with cherries, lemons, watermelons and grapes, as well as stars, bars and bells. With 3 reels and 5 paylines, the base version of this game looks like a classic - style slot game. But thanks to the Big Bets available, you can radically change the paylines, plus add wilds, multipliers and other extras that boost your chances of winning and increase your payouts.
Spin the reels and go from 5 to 27 paylines in this unique classic - style slot game with a modern twist.
By adding modern gameplay to this classic slot, it becomes a unique and exciting 3 - reel slot game.

- Claire Fraser, Senior Editor
Add a wild with variable multipliers to boost your winnings
Place Big Bets to bring the house edge to a lucrative 2%
Crisp symbols and slick spin animations add to the immersion
Additional pay lines and multipliers as you change your wager
If you choose, you can play this as a normal spin and win game, but you'll be facing a significantly higher house edge, which is why it's always advisable to play Big Bets if they fit in your bankroll. These are special wagers where you'll bet $25 for 5 spins with 27 ways to win and a maximum 10x multiplier. By playing this Big Bet, you'll get a Return to Player (RTP) percentage of 98%.
Even though the house edge is quite low, the volatility is still very high with this game. Most of the RTP comes from the incredible wins that are available when luck is on your side and delivers some winning symbols and great multipliers. However, as a high volatility slot game, you should expect to spin the reels 50-100 times before getting such a lucrative payout. If you can't afford the Big Bets and spin the reels enough times to land a massive payout, you may need to look at playing a different game instead.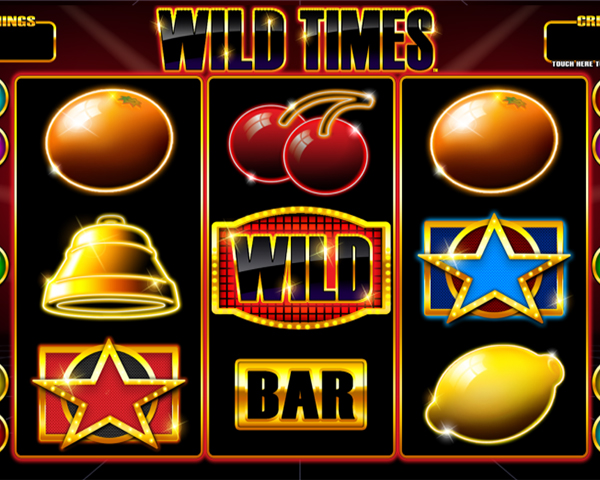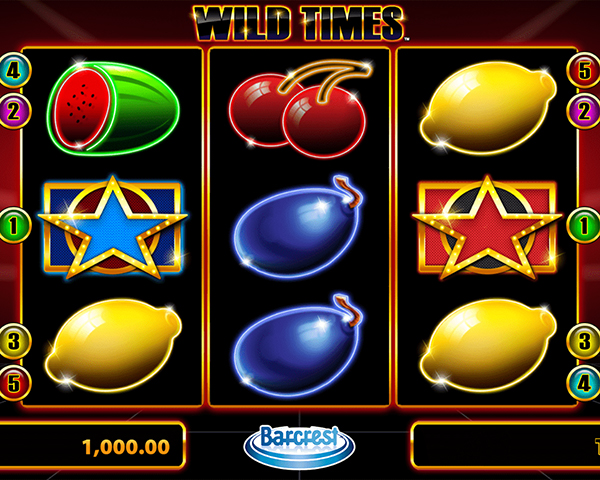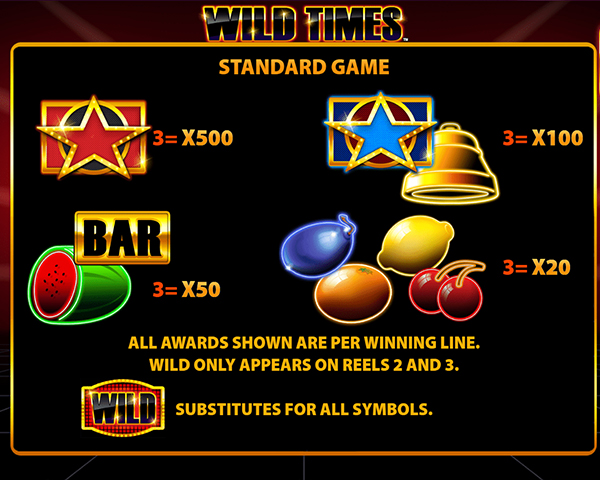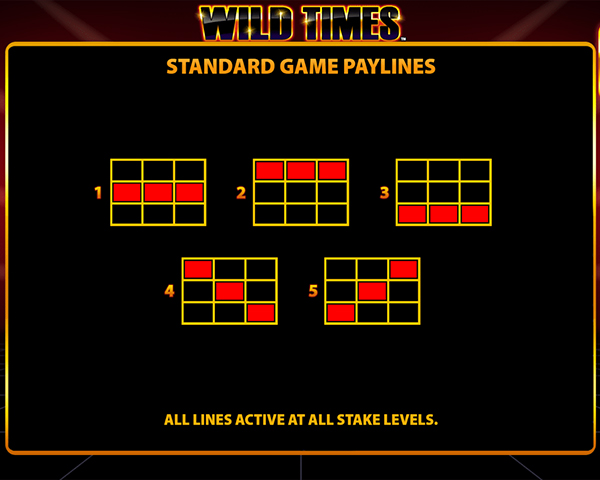 Where To Play Wild Times
This classic - style slot game with modern elements is a popular title at many top - rated online casinos that offer Barcrest games. When you visit one of our recommended sites, you'll be able to download the software to your mobile or computer. Alternatively, you can play no download Wild Times instantly in your browser. Both offer the same great game.
How We Review
Every online slot review we prepare is based on a wide range of criteria to ensure that it is detailed and unbiased. These elements can include:
Coins & payouts: Is this game made purely for high rollers or will penny players also stand a chance to win big? What is the minimum and maximum that you can wager with every spin, and what would the payouts be on them?
Return to Player (RTP): Slots are fun and exciting, but they are also designed to payout at a reliable rate. How often can you expect to win and lose in the long run?
Volatility: Some games pay out lucrative wins intermittently while others payout smaller amounts more often. Each has an appeal to different types of players.
Compatibility & availability: Does this game work well across a variety of different mobile platforms? Is it easy to find at top-rated online casinos?
Big Bets
The maximum payout for this game is capped at $250,000. This is an incredibly lucrative prize to play for, but more often than not you'll be more than happy with an extra few hundred bucks in your pocket after spinning the reels. It can take many Big Bets to land one of the massive payouts, so the big wins need to be super impressive to make it worth spinning the reels so many times. Still, if you're a fan of classic slot games but like the higher drama and bigger payouts of modern slots, this could be the perfect game for you.
Graphics and Design
The reels, background and overall design of this game is fairly minimalist while still being slick and crisp. The different fruit icons, as well as the wilds and stars, are clear and well designed, making them easy to spot and the game clear to follow. There are some ambient sounds to add to the immersion and excitement of the game without ever becoming irritating. While the added gameplay elements add a lot of modern drama and exhilaration to every spin of the reels, the core look and feel of the game is still that of a retro-styled fruit machine.
Payouts and Prizes
If you wanted, this game could appeal to anyone from penny players to high rollers. The minimum wager per spin is $0.10 with a maximum of $500. But, if you bet less than $2 per spin, you'll be up against a house edge of 6%, making it even harder to win when you're playing it as a penny slot. Wagering more than $2 per spin boosts your RTP by 2%, bringing it up to 96%. For the best value and highest chances to win, you'll need to play the Big Bets, bringing the RTP to 98%, but this does mean betting between $10 - $25 for 5 spins, which might turn away both penny players and the highest high rollers.
Play on Mobile
When you play Wild Times on mobile, you can spin the reels from the palm of your hand on the go or at home. Visit one of our top - rated online casinos to easily play on your computer and mobile, all while using the same VIP points and wallet.
Barcrest has worked hard to ensure that all its games work well on mobile devices, and Wild Times in particular looks fantastic on any modern smartphone or tablet. You can play on a wide range of devices, including iOS, Android, Windows, Kindle Fire or BlackBerry handsets. Even though you can play on just about any mobile, you'll usually have the best experience playing on an Apple or Android device.
Before you make a deposit or withdrawal, check if you are using an open WiFi network. Even though these are helpful at lowering data usage and improving internet speeds, these connections might not be secure and could leave you vulnerable to hackers or third parties.
100K Free Coins & 200 Free Spins Bonus with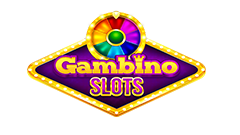 Play For Real Money
Play Wild Times Online Today
Wild Times is truly a high-quality, retro-styled 3-reel slot game with a modern twist. Crisp graphics and great design combine with unique gameplay elements to make this a revolutionary new take on a classic fruit machine. Join other 3-reel slot fans and check it out for yourself at one of our top-rated online casinos.