Age of the Gods - Fate Sisters Review
The Fate Sisters slot replaces the Iron Man 3 slot game as part of a shift Playtech made from Marvel branded slots to Age of the Gods. But this is more than a simple redesign of the same game. The Fate Sisters has made the gameplay and the bonuses even more exhilarating. Add to this an incredibly lucrative progressive jackpot, and it's easy to see why this is such a popular slot.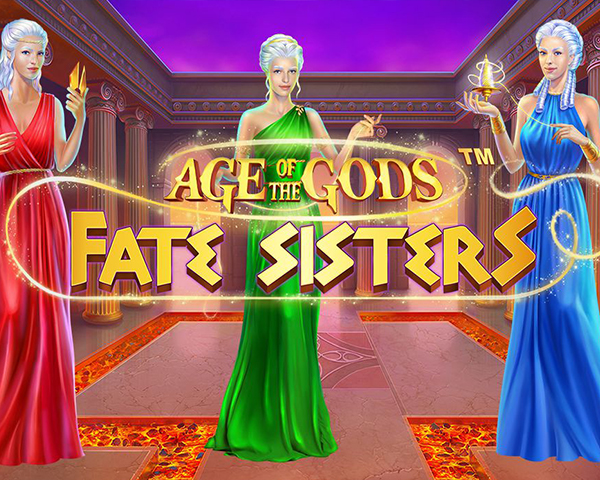 Game Info
Theme
Fates of Greek Myths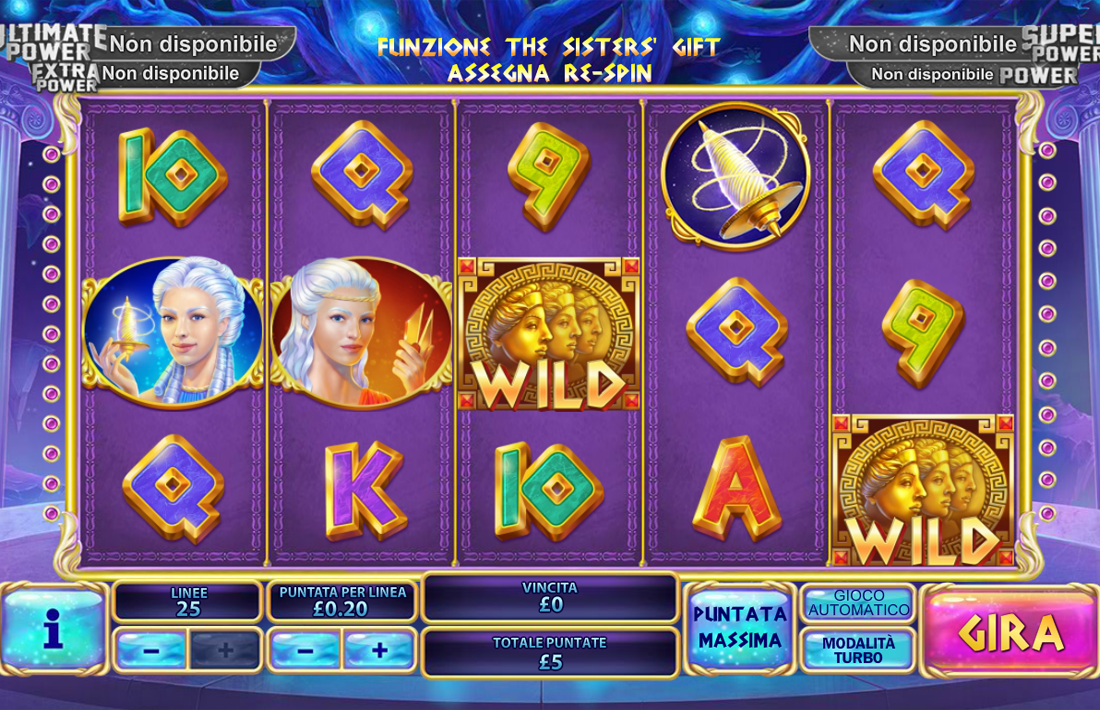 Our Verdict
The Fate Sisters has spin varied bonuses, letting you decide which path is best for you as you spin the reels and win big in this slot.
What we like
Variety of bonuses to choose from
Gorgeous animation and design
Wide betting range for penny players and high rollers
Lucrative, life - changing progressive jackpot
What Can Improve?
RTP % is lower than most Age of the Gods games
We encountered some glitches and game stutters
100K Free Coins & 200 Free Spins Bonus with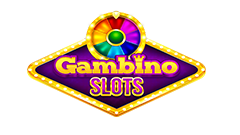 Play For Real Money
About Age of the Gods - Fate Sisters
If you've played other video slots, Fate Sisters will look rather familiar at first glance, with its 5 reels and 20 paylines. The icons are very appealing though, set in reels that are without a doubt designed to resemble Greek architecture. While the core slot action is a lot of fun, things become truly exhilarating when you land the big bonuses and get to choose your own destiny.
Decide your own future when you spin the reels with Age of the Gods - Fate Sisters:
Choose your bonus game so that you feel the most rewarded with this excellent slot game.

- Claire Fraser, Senior Editor
3 unique bonus rounds
Choose which bonus you'd like
Free spins with multipliers or wilds
Incredible progressive jackpots
When 3 scatters appear, you'll be given a choice which temple you want to visit, which is always fun!
We understand that while some of you want all the free spins, others love wilds or multipliers. No matter what your preferred style, all 3 of these bonuses can be incredibly lucrative, so there is no right or wrong choice.
Atropos' temple doesn't have any wilds, but you'll get 15 free spins with a variable increasing multiplier. Lachesis gives you 10 free spins with retriggering frozen wilds that stay in place for 3 spins. Clotho's temple starts with only 8 spins but adds 3 random wilds with each and every spin. If you find the fate in her temple on the third reel during free spins, you'll garner an extra three spins.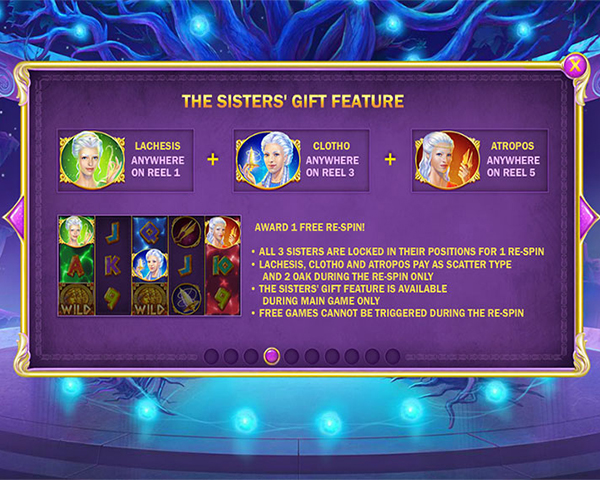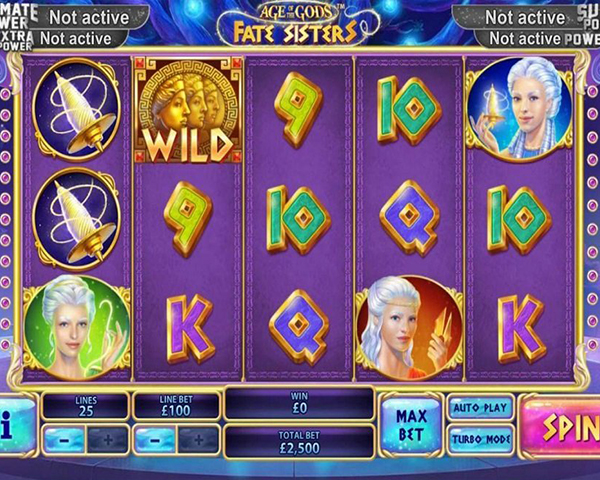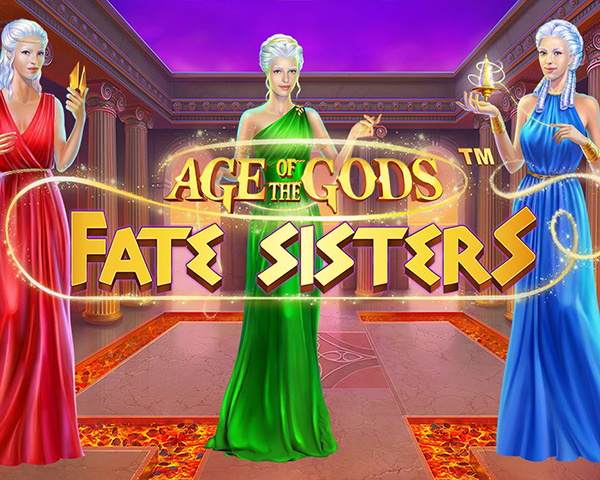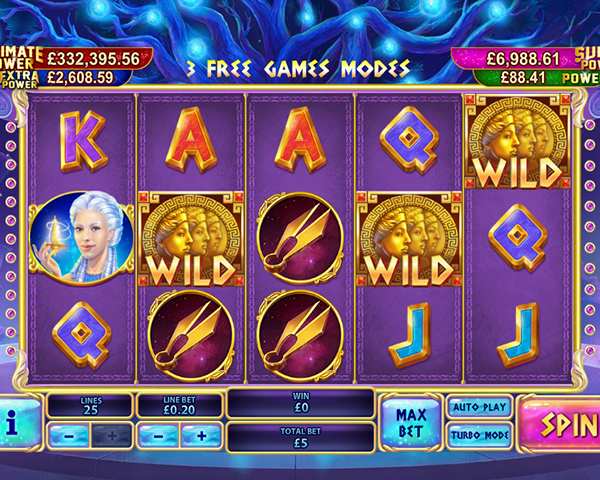 Where To Play Age of the Gods - Fate Sisters
Because all the Age of the Gods slots are so popular, Fate Sisters will be available at top online casinos using the Playtech library of games. You can download the software to your computer or mobile or play no download Age of the Gods - Fate Sisters in your browser. Either way, you'll be able to play the same great game, plus stand a chance to win the progressive jackpot.
How We Review
When preparing our slot review, we evaluate a wide range of different elements. Our unbiased assessments answer all the following so you don't have to:
Graphics & design: How does the game look and feel? Is it enjoyable to play and easy to understand?
Bonuses & extras: Everyone loves the core gameplay of the spinning reels, but what does this game do that's extra? How does it add bonuses to reward its players.
Payouts & jackpots: How much can you expect to win from this game? Are all the prizes found in the jackpot, or will you get other payouts along the way.
Developer track record: Who is making this game and is it linked to anything else? Does this title have a proven record of success and what can players expect?
Progressive Jackpots
Part of what makes Age of the Gods such an appealing franchise is the progressive jackpot. There are 4 jackpots available, ranging from payouts in the hundreds to payouts in the hundreds of thousands. Even if you don't win the top prize, simply getting to the jackpot round guarantees you one of these fabulous payouts. Of course, you'll be hoping for the Ultimate Jackpot, which usually hits about every six weeks and pays out an average of over $650,000.
Graphics and Design
You'll find excellent design with crisp icons in Age of the Gods - Fate Sisters. Each symbol is clear, and even though we wish developers would stop padding the reels with playing-card icons, it does make the top paying symbols stand out even more. The animation for the fates look lovely, although we did find that the spin animations and other video elements did stutter a bit on some platforms and led to lag on others. A couple of times when we tried to play the game, the sound and visuals didn't quite line up, which is hopefully something that's resolved soon.
Payouts and Prizes
Unlike some of the other Age of the Gods games, Fate Sisters seems to be more progressive than the rest. There is a strong focus on the top of the pay table, as well as the progressive jackpot, without regular wins for lower paying icons. That said, thanks to excellent bonus rounds, you'll still find some big payouts on a regular basis. The top paying icon is the wild, giving you 10,000x your wager if you find 5 along a payline. The next 3 top paying icons are 500x, 300x and 100x, with the lowest icons doing little to keep your bankroll afloat as you wait for the bonuses or jackpots.
Play on Mobile
Playing at one of the best online casinos means that you can switch easily from computer to mobile and back again, all while using the same account and wallet. Playtech works tirelessly to make sure you get the best possible experience wherever you play.
Understandably, developers focus on the most popular systems first, which is why you'll find more apps for iOS and Android products. But that's okay because thanks to instant play and HTML5, you'll also be able to use most Windows, Kindle Fire or BlackBerry devices to play Age of the Gods - Fate Sisters on your mobile.
If you choose, you can also opt for the no download Fate Sisters slot by playing in your browser. This version works well on just about any modern mobile device, letting you play without downloading any software or apps.
100K Free Coins & 200 Free Spins Bonus with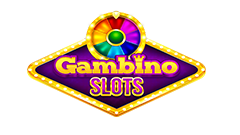 Play For Real Money
Play Age of the Gods - Fate Sisters Online Today
Age of the Gods - Fate Sisters is definitely not one to be missed. From the excellent design and graphics, to the bonus games that let you choose how you want to win, there are many reasons why players enjoy this slot. Thanks to the incredible progressive jackpot, it might even end up changing your life in an instant. Start playing Fate Sisters today at one of the best online casinos of December 2023 and take your fate into your hands!