Magic Portals Slot Review
Get ready to head to a magical and mystical place when you play Magic Portals, the great slot from NetEnt. On this page, you'll find out exactly how to play this great casino game, as well as loads of other things too, including how to win the jackpot and how to play using a smartphone or tablet.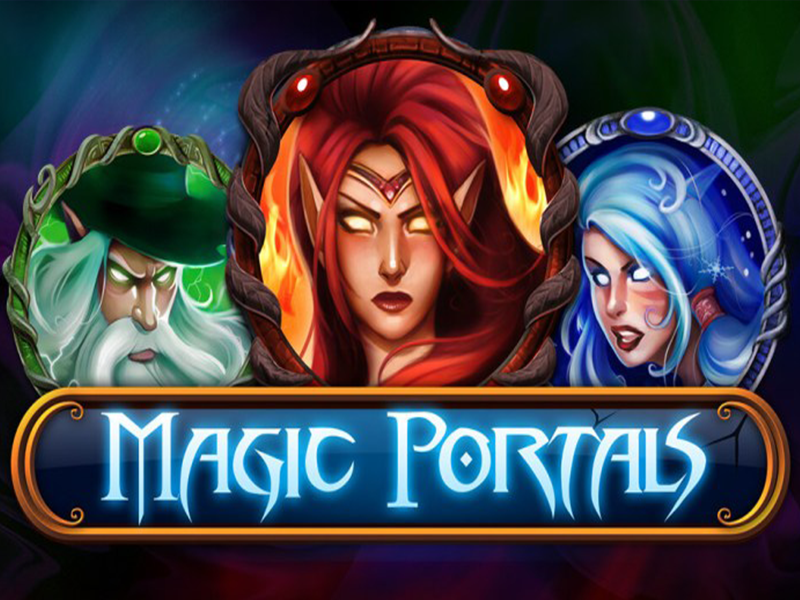 Game Info
Theme
Magic, Mystical, Horror
Our Verdict
Magic Portals proves yet again that NetEnt really know how to make a great game, so you should definitely spin the reels and attempt to win the big jackpot!
What we like
Large range of bet sizes
Jackpot worth 500x
Two bonus features
Interesting theme
What Can Improve?
Graphics aren't very sharp
Slightly high minimum bet
100K Free Coins & 200 Free Spins Bonus with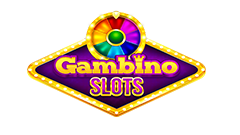 Play For Real Money
About Magic Portals
Magic Portals might not look too impressive when you first start playing, but there is plenty to excite you once you start spinning the reels. As with most NetEnt online slot machines, there is a fantastically innovative bonus feature on offer, which makes every spin an exciting one, plus you'll also find that the prizes can be huge, especially if you can get multiple wild symbols on the reels.
Magic Portals is a dark and mysterious online slot, however one that also offers some massive prizes.

- James Hadley, editorial assistant
Two innovative and exciting bonus features
Get multiple winning combinations per spin
Win up to 500x your payline bet
Bet up to an impressive 250 coins per spin
This online slot is made up of 5 reels, as is the case with most video slots nowadays, and across these reels you'll find 25 fixed paylines. While you can't adjust the number of paylines, you can alter the amount you bet, and the minimum bet amount is 0.25 coins per spin. High-rollers will be happy, as the maximum bet is an impressive 250 coins.
The most impressive aspect to this slot is the bonus features though, and these can lead to 2 things: loads of excitement and some massive prizes. If you like this game, don't forget to also check out some other games from NetEnt, as most are equally as innovative, and also offer the same impressive prizes.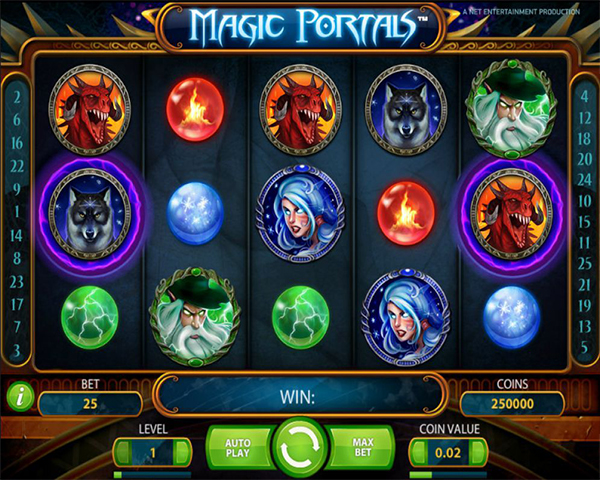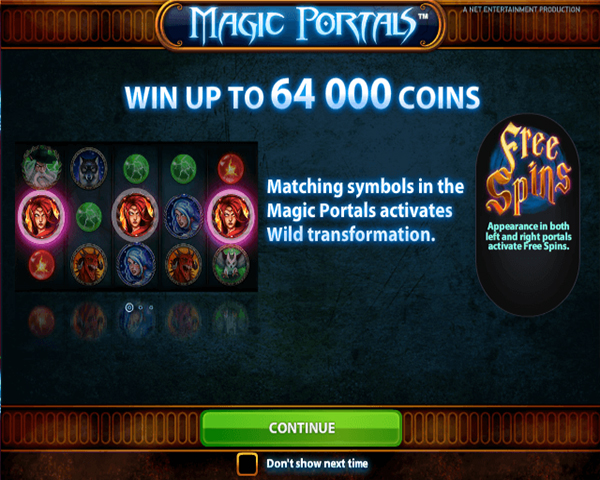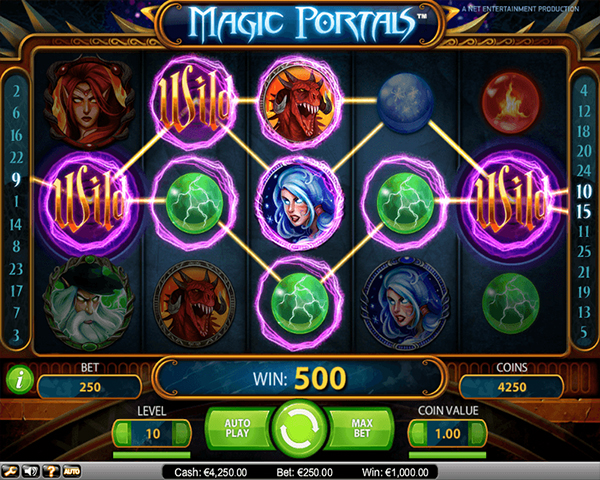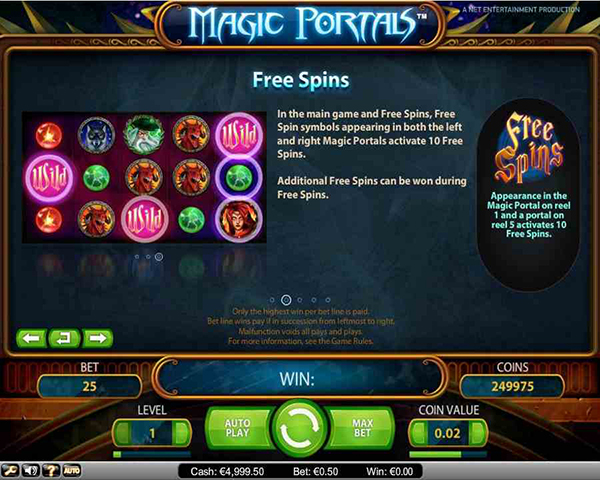 Where To Play Magic Portals
You will find that Magic Portals is a very commonly seen game in the online slots world, as it appears at nearly every site using NetEnt software. But how do you find the best NetEnt casino? The answer is simple: look through our list of recommended NetEnt sites and choose which one you feel suits you best.
How We Review
Every online slot receives the same care and attention when we put together a review, and we look at it from all aspects. Some of the more important things we look at are:<
RTP: You should always play at slots that have a high RTP, which is why we'll tell you the RTP in every online slot review we create.
Jackpot: You'll find out exactly how the slot's top prize can be won, as well as how much money the jackpot is potentially worth.
Compatibility: Find out whether you can play the slot using a smartphone or tablet, as well as using your desktop or laptop computer.
Graphics: Graphics can really add to the excitement of a slot, so we'll always tell you exactly what we think of them.
Symbols and Wilds
There are 2 special features at this slot, and they both revolve around the magic portals on the reels. You'll notice that there are purple circles on 2 positions, and if you manage to get the same symbol in both these circles, they will turn wild. What's more, all other symbols of the same type will also turn wild, which can lead to some big prizes. There is also a free spins bonus at this slot, and it starts when you get a free spins symbol in each of the portals.
Graphics and Design
NetEnt are renowned for making slots that look great, however they've fallen slightly short when it comes to Magic Portals. The graphics here don't have the same polished edge you'd expect, plus a number of the lower value symbols are pretty boring. Graphics aren't everything in the world of slots though, and Magic Portals makes up for this in other important areas.
Payouts and Prizes
The most you can win per payline at this online slot is an amount equal to 500x your bet per payline, meaning that those playing at the highest stakes can potentially win 5,000 coins. This isn't too impressive when compared to other slots, however there's something important to remember: it is possible to get multiple winning combinations on every spin, so you can actually win tens of thousands of coins when you play. The highest value symbol at this slot is the red witch, though the green wizard and the purple witch can also provide some decent prizes. The RTP at this online slot is 96.60%.
Play on Mobile
If you're looking to play Magic Portals using a mobile device, then you'll be glad to know that you can spin the reels using pretty much every conceivable smartphone and tablet. This is because this game has been made using HTML5 technology. Most will play using an iPhone, iPad or Android device, however all brands of devices are compatible with this game, so nobody has to miss out.
You can also play this game if you only have a small data allowance every month, and this is simply down to the fact that it really doesn't use much data at all. So, you'll never need to worry about incurring extra data charges again.
100K Free Coins & 200 Free Spins Bonus with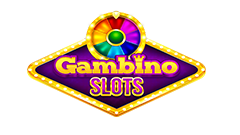 Play For Real Money
Play Magic Portals Online Today
Magic Portals is a fantastic online slot from NetEnt, offering everything from big prizes through to exciting and innovative bonus rounds. What else would you expect from NetEnt though? If you're looking for a new online slot machine to play, we'd definitely recommend this one, so take a look through our list of NetEnt casinos and start playing Magic Portals today!