Jack Hammer vs Evil Dr Wuten Slot Review
Jack Hammer vs Evil Dr Wuten is a game from NetEnt, based on the exploits of the eponymous private detective. It has everything you'd expect from a NetEnt slot, including great graphics and big prizes, so why not learn more about this game by reading our independent slot review?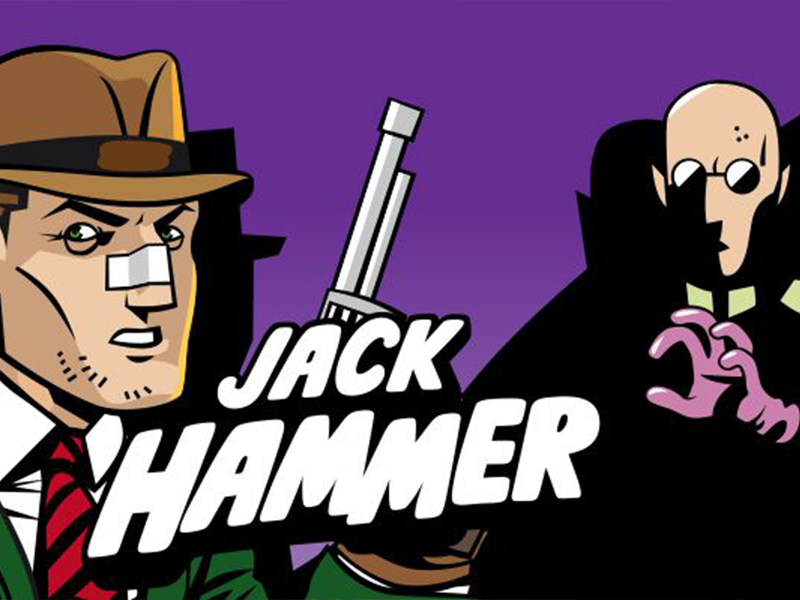 Game Info
Theme
Crime, Action, Comic Book
Our Verdict
Jack Hammer vs Evil Dr Wuten is a slot that presses all the right buttons. We're sure that if you give it a chance you'll love it, as most slot fans do.
What we like
Great graphics
Massive potential jackpot
Fantastic free spins
RTP of 97.00%
What Can Improve?
Minimum bet is quite high
No progressive jackpot
100K Free Coins & 200 Free Spins Bonus with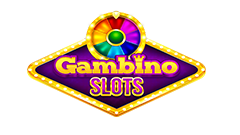 Play For Real Money
About Jack Hammer vs Evil Dr Wuten
If you've played NetEnt slots before, you'll know that they're known for producing some of the best-looking slots around. This is certainly the case when it comes to Jack Hammer vs Evil Dr Wuten, which has fantastic comic book style graphics, plus you'll also find big prizes, as well as some exciting bonus features. Essentially, this game pretty much has everything you would expect from a great slot!
Jack Hammer vs Evil Dr Wuten is a cool online slot, with great graphics and a potentially massive top prize.

- Amy Wilson, Editor
Free spins and sticky wins
Win up to 1,000x your payline bet
Amazing comic book style graphics
97.00% RTP is above average
Jack Hammer vs Evil Dr Wuten is a 5-reel slot with 25 fixed paylines. The fact that they are fixed means that you must play them all on every spin, however you can alter the amount of money you bet. The lowest possible bet at this game is 0.25 coins, which might be slightly too high for really low-stakes players, while the maximum bet is a hefty 250 coins.
But what else is there to say about this cool online slot? Well, you'll find that there are a couple of great bonus features, which activate often and can lead to some big prizes. You'll also find that it can be played using a mobile - find out more about mobile gambling further down this page.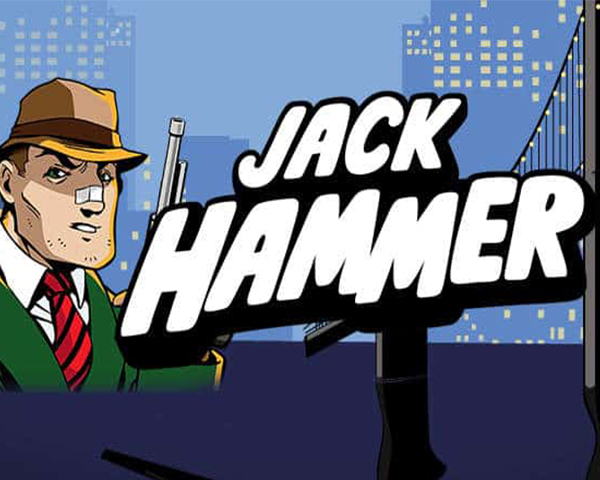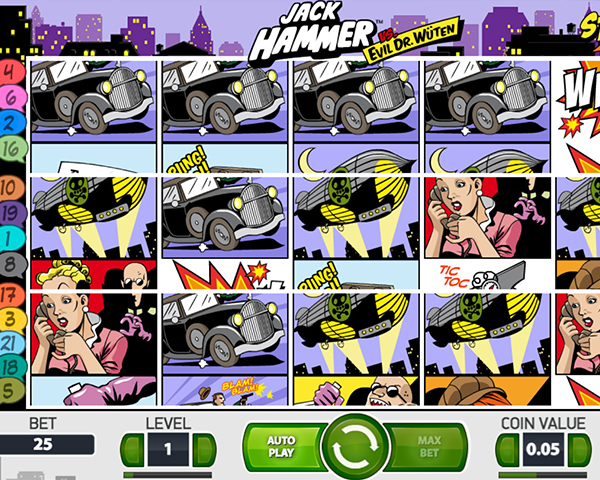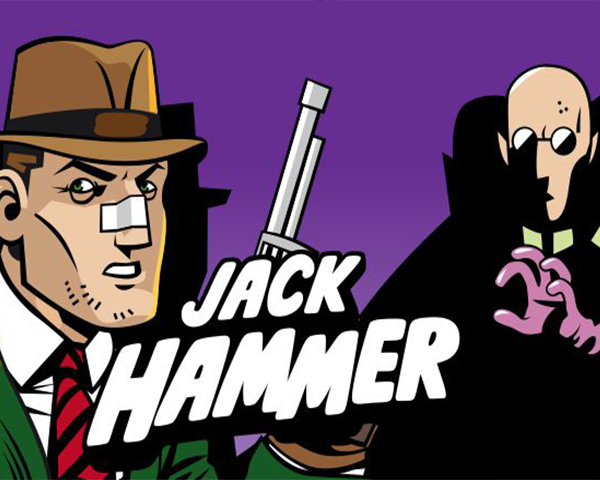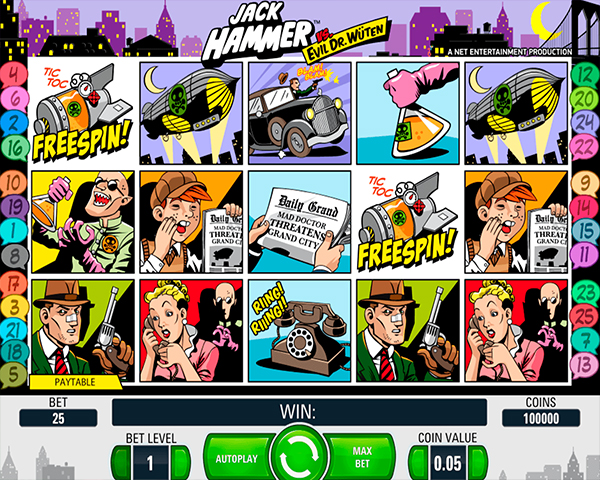 Where To Play Jack Hammer vs Evil Dr Wuten
Jack Hammer vs Evil Dr Wuten can be played at all good NetEnt online casinos, and you can find the very best of these casinos when you look through the list below. To find the site that is best for you, just read through our comprehensive reviews, all of which have been written by knowledgeable and experienced online gamblers.
How We Review
When we review a slot, we look at pretty much every different aspect. Some of the more important things we look at include:
Bonus Features: We'll always tell you how you can activate the bonus features, plus we'll also show you how they are played.
Compatibility: Every review will have a comprehensive mobile section, telling you how to spin the reels using a smartphone or tablet.
Jackpot: There's nothing more important than a slot's jackpot, and we'll tell you exactly how much it's worth, as well as how to win it.
Theme: While the theme doesn't affect the amount you win, it will affect how much you enjoy playing, which is why we discuss the theme in every review.
Sticky Wins and Free Spins
The main feature at this slot is the Sticky Wins. This means that when a winning combination spins into view, the winning symbols will remain stuck in place, while you receive a free respin. You can then win more money if additional winning combinations appear on the reels. This keeps going until no more combinations are spun into view. You can also win free spins at this online slot; however, these are just standard free spins, without any interesting features added to them.
Graphics and Design
The graphics at this slot are fantastic, and they make every spin of the reels an exciting one. Each symbol is completely unique, so you'll find no boring 10-A symbols at this slot, plus the background also helps to really push the theme. The graphics at this slot even manage to tell a story, which is unusual in the world of online slot machines.
Payouts and Prizes
The top prize at this online slot is 1,000x your bet per payline, meaning you could win 10,000 coins per payline when playing at the highest stakes. The fact that you can get multiple winning combinations on the same spin means that the jackpot is in fact higher than 1,000x though. The top paying symbol is Jack Hammer himself, however the 3 other characters are also high paying symbols at this game. The RTP of this online slot is 97.00%, and this is slightly higher than average, which can only be a good thing for players.
Play on Mobile
Do you want to play Jack Hammer vs Evil Dr Wuten using a smartphone or tablet? If so, you're in luck, as this game can be played using pretty much any mobile device. So, everything from an iPhone through to an Amazon Fire tablet can be used, providing you have the device connected to a reasonably good internet connection. Wi-Fi is best, however 3G and 4G can also both be used.
Having said that, don't worry about your data allowance when you play Jack Hammer vs Evil Dr Wuten, as this slot really doesn't use much data at all. In fact, pretty much all mobile slots use a small amount of data - only games like live dealer blackjack and roulette use higher levels. So, you can spin the reels for hours without ever incurring any extra data charges!
100K Free Coins & 200 Free Spins Bonus with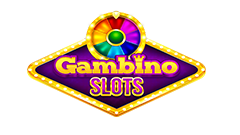 Play For Real Money
Play Jack Hammer vs Evil Dr Wuten Online Today
Jack Hammer vs Evil Dr Wuten really is one of the best games ever created by the people over at NetEnt, and this is due to many reasons. One of the biggest is the graphics though, which make every spin of the reels a really exciting one, plus the prizes can be absolutely huge, and the Sticky Wins feature can lead to some big wins. So, if you are looking to play a new online slot, we would highly recommend Jack Hammer vs Evil Dr Wuten!