Lost Temple Slot Review
Love online slot games from Merkur? If so, you'll really enjoy playing Lost Temple, which is one of the best games ever made by the company. On this page, we're going to let you know everything about this game, so you can see if you want to spin the reels today.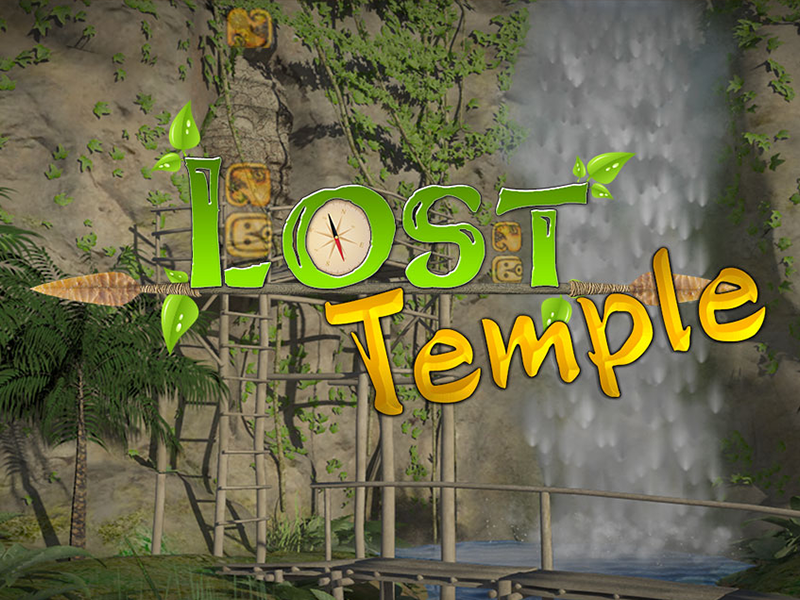 Game Info
Theme
Exploration, Adventure, Jungle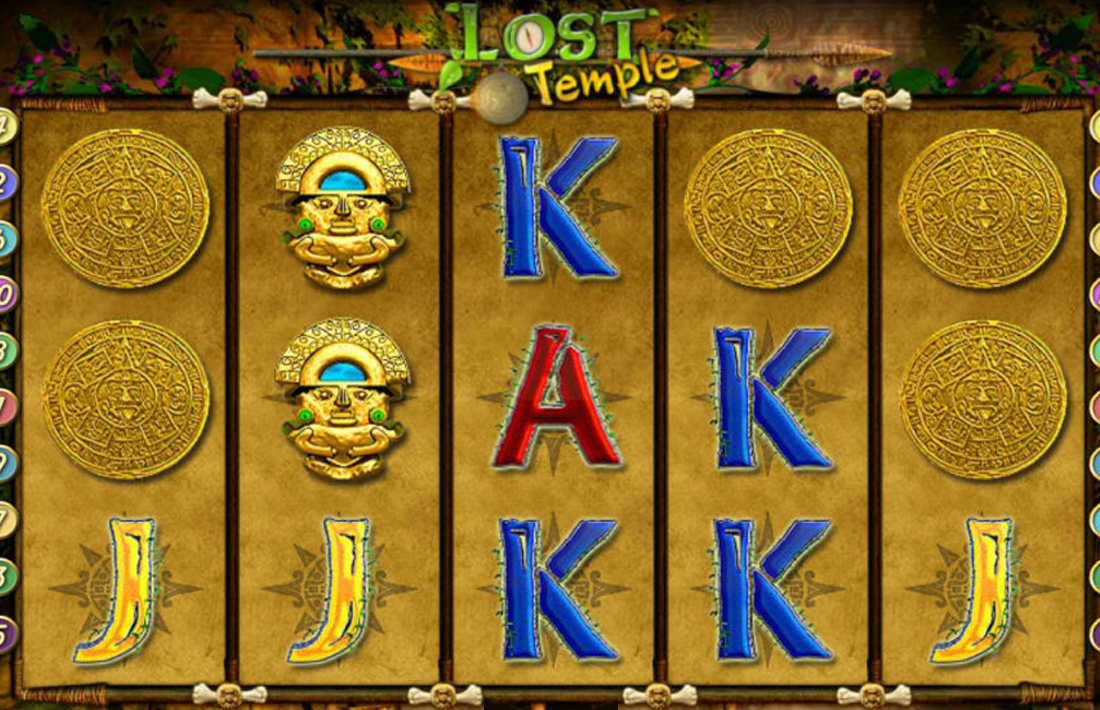 Our Verdict
Start the reels spinning today at Lost Temple and see if you can scoop this slot's absolutely massive jackpot.
What we like
Awesome graphics and animations
Jackpot worth an impressive 5,000 coins
Pretty good RTP of 95.83%
Great theme based on the Mayans
What Can Improve?
Free spins could be more exciting
Symbols on the reels are slightly plain
100K Free Coins & 200 Free Spins Bonus with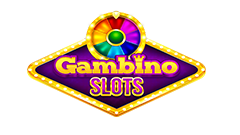 Play For Real Money
About Lost Temple
Lost Temple is an online slot machine created by Merkur, and it has five reels, three rows and 10 different paylines. These paylines are fixed, so you have to play all of them on every spin. However, you can alter the amount you bet, with the minimum bet being 0.10 coins and the maximum being 20 coins.
Here are four great reasons to play this online slot from Merkur:
Lost Temple has a really exciting theme, as well as great gameplay and a pretty impressive top prize.

- James Hadley, Editorial Assistant
Jackpot at this slot worth 5,000 coins
Fantastic looking slot with great graphics
Gamble your prizes in two different ways
Play at a range of different stakes
The theme at this online slot has certainly done before, as many software producers have gone down the Mayan/Aztec route. Lost Temple more than holds its own though, thanks to the great graphics, big prizes and the overall enjoyment of the gameplay. Speaking of prizes, the maximum prize at this slot is 5,000 coins, which is about average for slots from Merkur.
As with most slots, there are also bonus features at this game, namely wild and scatter symbols, as well as free spins. The free spins could do with having some extra excitement added to them though. Currently they are just standard free spins, which isn't something that really stands out from the crowd too much.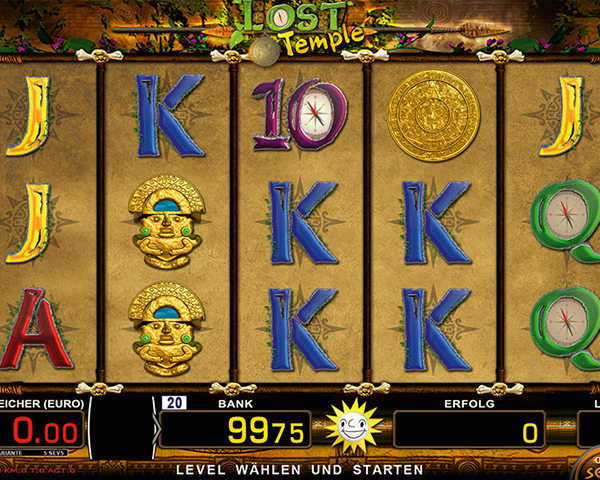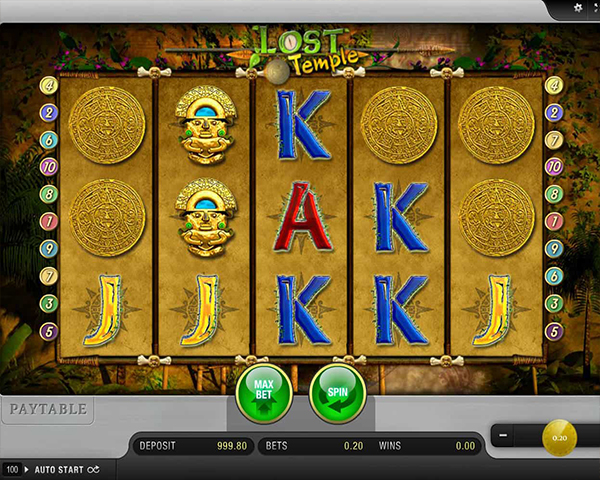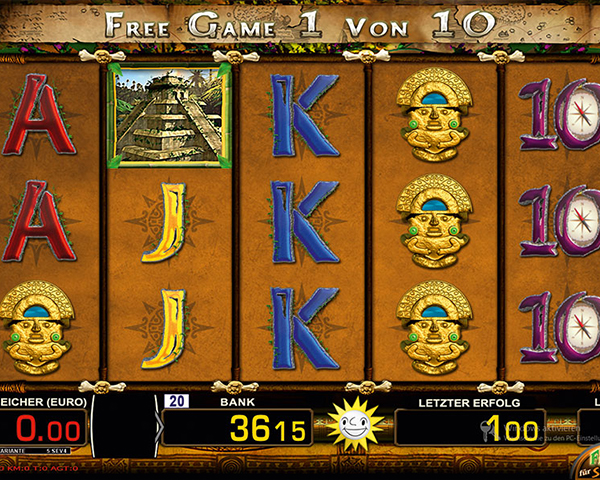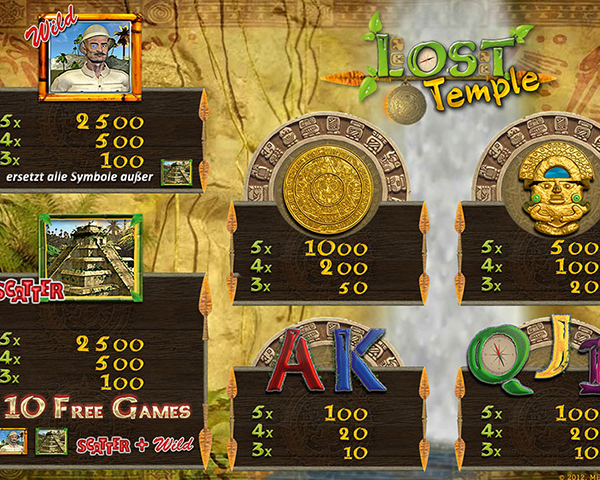 Where To Play Lost Temple
Many different online casinos use software from Merkur, mainly because the software is simply so good. This means that you shouldn't have any problems when it comes to finding a place to play this game. If you want to play at a top online casino though, you should definitely pick one from our list of recommended sites.
How We Review
We give every slot we review a thorough test, as we only want to recommend the slots that offer absolutely everything a player could want. We look at:
Theme: The theme doesn't affect the prizes, but it does affect enjoyment. We want to see something exciting and well-created.
RTP: The RTP is how much money you can expect to win back when you play, so we'll only ever recommend slots that have high RTPs.
Compatibility: It's now not enough for a slot to only be available on desktop. The best slots should also work on all mobile devices.
Prizes: It should go without saying that the jackpot at a slot should be high, and our recommended slots have some of the highest jackpots around!
Bonuses & Multipliers
In truth, the free spins at this slot are actually quite boring. This is because they are just standard free spins and there's nothing like multipliers or other special additions to boost excitement. The two different gamble features are exciting though, and they can lead to you increasing prizes significantly - if you're brave enough to use them. The first gamble feature sees you trying to progress up a ladder to win bigger prizes, while the other is the tried-and-tested format of correctly picking the color of the next card.
Graphics and Design
The graphics at Lost Temple are pretty good, although they are not on par with the 3D graphics offered at slots created by some other software producers. This game also has some simple animations when you win a prize, such as symbols spinning and characters coming to life, and these simply make the slot a little slicker and more enjoyable to play.
Payouts and Prizes
Okay, so what is the most you can win at this game on a single spin of the reels? Well, it's 5,000 coins, and this is only available if you play at the highest stakes (20 coins per spin). In order to win this prize, you'll need to spin in five scatter symbols anywhere on the reels, or five wild symbols across a payline. This jackpot can be won during the base game or during the free spins. The RTP of this slot is 95.83%, which is pretty good and compares well to the RTPs of most other slots, just like nearly all other titles from Merkur.
Play on Mobile
So, we've seen that Lost Temple is great on desktops, but can it be played by those using a mobile device? The answer is that it certainly can, and it also shouldn't drain your data allowance too much either, as playing slots really only uses a tiny amount of data per spin.
WiFi connections are of course preferable, though, as you won't run the risk of your connection dropping out mid-game. It's important to note that if you're using an open WiFi connection that you take care when making any sensitive transactions. It might not be a secure network and you wouldn't want others getting hold of your personal data.
But what devices can you use to play Lost Temple? Well, the answer is simple: pretty much all of them! iPhones and iPads can definitely be used to play this game, as can all devices running on the Android OS, including the Samsung Galaxy. Devices from Google, Microsoft and HTC can also be used.
100K Free Coins & 200 Free Spins Bonus with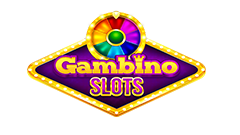 Play For Real Money
Play Lost Temple Online Today
Lost Temple has pretty much everything an online slots fan could ask for, including big prizes and a really exciting theme. While it does have a couple of downsides, the biggest of which is the slightly boring free spins, nearly everyone should really enjoy playing this game. So, why not head to one of our recommended Merkur casinos today and see if you can win the jackpot?