Aztec's Millions Review
Aztec's Millions is the jackpot version of Aztec's Treasure, adding a progressive jackpot to the game that seeds at $1,000,00, guaranteeing that any winner will become an instant millionaire. But there's a lot more to the game as you journey through the jungle and find huge wins along the way. Continue reading to find out what makes Aztec's Millions an exciting game in 2023.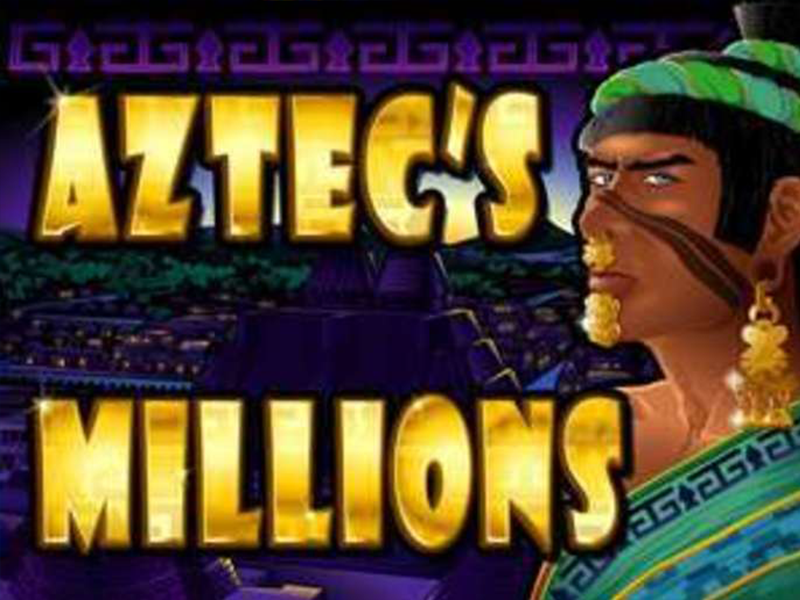 Game Info
Developer
Real Time Gaming
Theme
Ancient, Aztec, Fortune

Our Verdict
Continue the hunt for the riches of the Ancient Aztecs with a massive progressive jackpot as incentive in Aztec's Millions.
What we like
Lucrative, life-changing progressive jackpot
Free spins with multipliers
Win big from a small wager
Free spins can retrigger
What Can Improve?
Only one betting level
Progressive jackpot doesn't hit often
100K Free Coins & 200 Free Spins Bonus with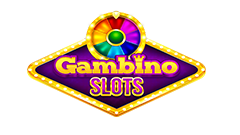 Play For Real Money
About Aztec's Millions
There's something about Aztecs that make them a frequent theme for slot developers. Perhaps it's the promise of riches hidden away in the jungle, or maybe all the cool symbols and icons that look great across the reels, but everyone has an Aztec-themed slot game, and RTG even has two. Aztec's Millions is the progressive jackpot version of another game called Aztec's Treasure. By reworking an existing slot game, they're able to give you tons of fun gameplay that doesn't just rely on the promise of making you an instant millionaire.
There are big wins spread across the 25 paylines, with frequent payouts coming as you wait to trigger the incredible jackpot.
Free spins and wilds are just the beginning with Aztec's Millions as you strive to become an instant millionaire.

- Claire Fraser, Senior Editor
Life-changing progressive jackpot
Free spins with multipliers
Bonus can retrigger
Win big from a $5 spin
Spinning the reels of Aztec's Millions is an immersive and exciting experience. While there aren't as many slick animations or extra bonus rounds as you might find with some other slot games, the core slot action is tons of fun and will keep you spinning to find more and more riches. There are plenty of base game payouts, so you'll find that your bankroll stays afloat nicely thanks to the relatively low volatility of this slot.
The big wins come when you find three or more scatters across the reels, triggering your free spins that come with a 3x multiplier. These can retrigger if you find more scatter icons on the reels during your free games, with even one icon adding to your free spin count. It can take a while to hit a free spin bonus round, but it will certainly pay out big when it lands.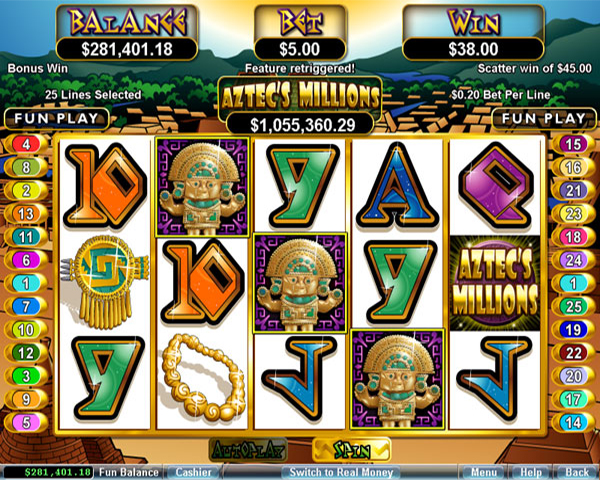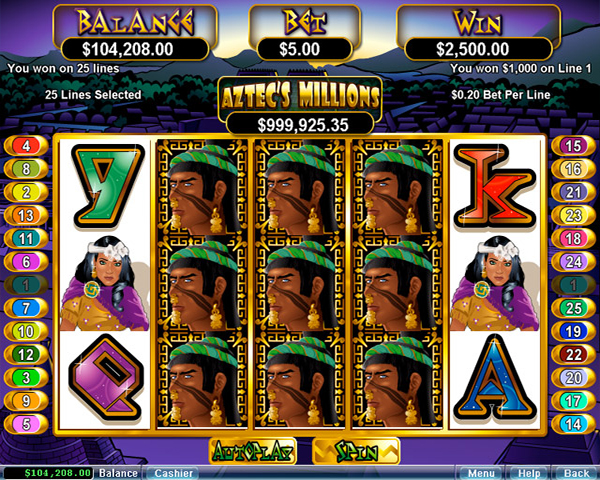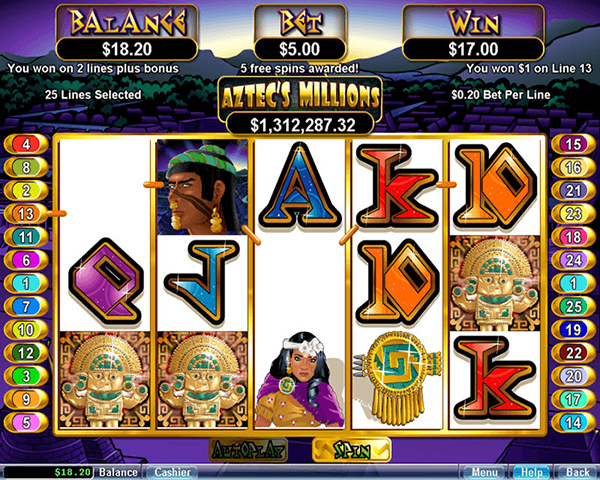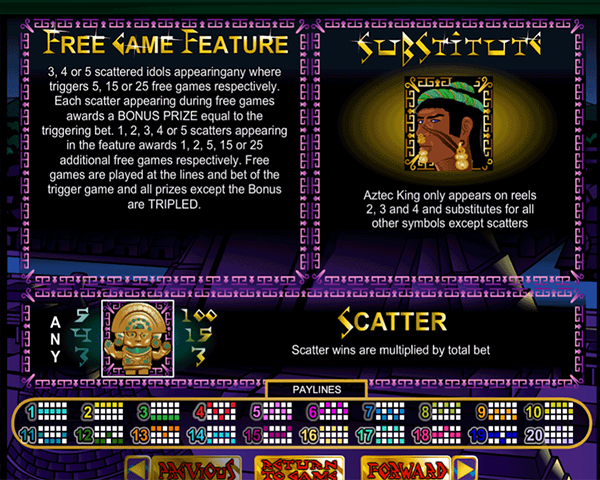 Where To Play Aztec's Millions
This popular slot game is widely available at top online casinos offering the RTG library of games. You'll be able to download the software to your computer or mobile, or else you can play no download Aztec's Millions in your browser. Either way, you'll get to play the same great game, plus get access to that lucrative progressive jackpot.
How We Review
In order to keep all our slot reviews detailed and unbiased, we base all of our evaluations on a range of elements. These aspects include:
Graphics & Design: What is the look and feel of the game? Do the symbols and soundtrack help to create an immersive experience?
Payouts & Jackpots: Are the winnings tied up in the progressive or can you find big wins along the way? How much can you expect to win?
Bonuses & Extras: How does the game reward players with extra bonuses? In what ways does it distinguish itself from other slots by adding something extra?
RTP: Slots are exciting and tons of fun, but how much do they pay out? How much can you expect to win and lose?
Jackpot Icons
The Aztec Millions progressive seeds at $1,000,000, guaranteeing that the winner will become an instant millionaire. There isn't a secondary game or anything extra you need to win, simply find 5 jackpot icons and you'll win the prize that's currently over $2,000,000. This can be a tall order as you can spin the reels 100 times and not see a single winning icon, but when they do fill the reels, you'll have millions of reasons to celebrate.
Graphics and Design
Aztec's Millions is a modern game from RTG, featuring crisp symbols and slick spin animations. The soundtrack is incredibly immersive with great sound effects to add to the excitement without ever becoming grating or annoying. We do wish that the developer used all unique symbols instead of the playing card icons, but this does help to make the big wins stand out even more. While not as stunningly impressive as some other games, this slot still delivers an excellent design that will keep you spinning the reels.
Payouts and Prizes
The base game payouts are excellent in Aztec's Millions, with frequent payouts helping to keep your bankroll afloat. The highest payout you can get from the core gameplay is 5,000 coins for a line, which is worth $1,000. The paytable is rather generous, with other top payouts hitting 2,500 coins, 1,000 coins and the bottom of the paytable still giving 100 coins for five of a kind. With free spins and multipliers, you're sure to win big even if you don't snag that progressive jackpot.
Play on Mobile
Explore the jungle and look for the riches of the Aztec civilization when you play from the palm of your hand using your smartphone or tablet. You can play Aztec's Millions on mobile and enjoy the true freedom of playing when you like and where you choose. By using your favorite online casino, you'll be able to switch seamlessly from mobile to computer and back again as you wish.
RTG prides itself on continually improving software and the mobile experience, with a specific focus on providing games that work well on a variety of platforms. Thanks to instant play, you can enjoy no download Aztec's Millions on iOS, Android, Windows, Kindle Fire or BlackBerry devices. There is also app support, but this is generally focused on the more popular platforms like Apple's iPhone and iPad as well as Android smartphones and tablets like those made by Samsung, LG and Sony.
When you play Aztec's Millions on the go, you should still try to be aware of your surroundings. This is especially important when making a deposit or withdrawal as you need to ensure that you aren't using an open WiFi network as it may not be secure. It's also good to remember that slots can use more battery power than other apps, so you may need to be prepared to charge your device more often if you're planning to play for longer sessions.
100K Free Coins & 200 Free Spins Bonus with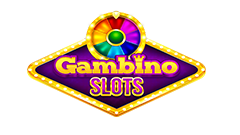 Play For Real Money
Play Aztec's Millions Online Today
As shown throughout this Aztec's Millions slot review, this is a high-quality slot game with excellent gameplay and payouts. Thanks to a free spin bonus with multipliers and retriggers, as well as the prospect of winning a life-changing progressive jackpot, you're sure to be filled with exhilaration every time you spin the reels. Start playing today at one of the best online casinos of 2023 to see what riches are waiting for you in the Aztec jungle.