Gladiator Slot Review
Ancient Rome is the venue for Betsoft's Gladiator slot. Hardened warriors are prepared for battle in the arena, sharing the space with horses, tigers and all manner of weaponry. This slot really looks the piece and plays nicely too.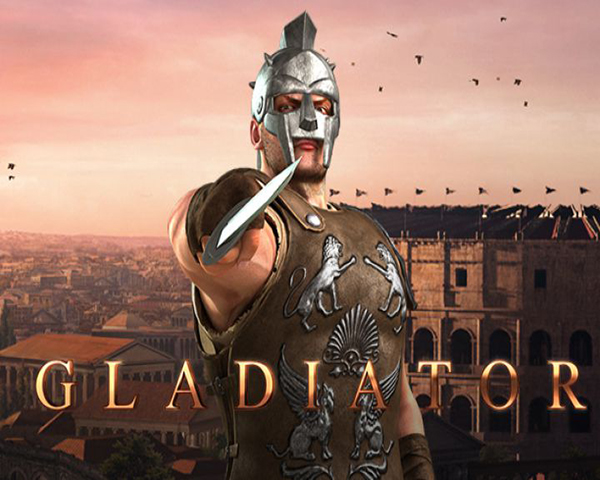 Game Info
Theme
Ancient Rome, Weaponry
Our Verdict
Have a spin on the Gladiator online slot and see if you can win the battle.
What we like
Super-slick graphics
Music really sets the scene
Some great features on offer for bonus hounds
All aspects of the bet can be tweaked, a plus for players
What Can Improve?
Coin range could be wider to suit more players
RTP is lower than other similar slots
100K Free Coins & 200 Free Spins Bonus with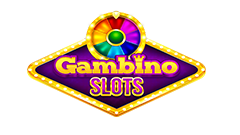 Play For Real Money
About Gladiator
Because of its history of making popular games for physical casinos, Betsoft is often seen as making games that aren't as slick or visual as the titles players are used to at online casinos. Well, Gladiator blows this perception out of the water. With gorgeous symbols and a completely unique design, as well as cool extras and bonuses, you're sure to find plenty of reasons to play this interesting slot online.
Find plenty of cool wins across the 30 paylines of Gladiator:
"Easily triggered bonus features ensure the wins keep rolling in with the Gladiator slot."

- Amy Wilson, Editor
Gorgeous icons that are all unique
Extra wilds that are also multipliers
Stacked wilds for even more wins
Massive gladiator fight pays out big
There are plenty of extra features and bonuses in Gladiator. While none of these are a free spins bonus, there are still tons of ways to win. If you find the Princess symbol in first position on reels 2, 3 and 4, you'll trigger the 2x wild feature. The Princess tosses a handful of rose petals below her, and as the petals touch the symbols below, they're turned into wilds that add a 2x multiplier.
Then there is the Gladiator Smash feature, where a marble slab can randomly cover the third reel. When the gladiator comes and smashes the slab, the entire third reel is wild. Other instant wins come from the click me feature you'll find with 3 or more door symbols on a payline, as well as the scatter payouts. There's even a mini game where you choose a gladiator and watch him fight it out with other gladiators. Each hit your fighter lands on wins you even more cash.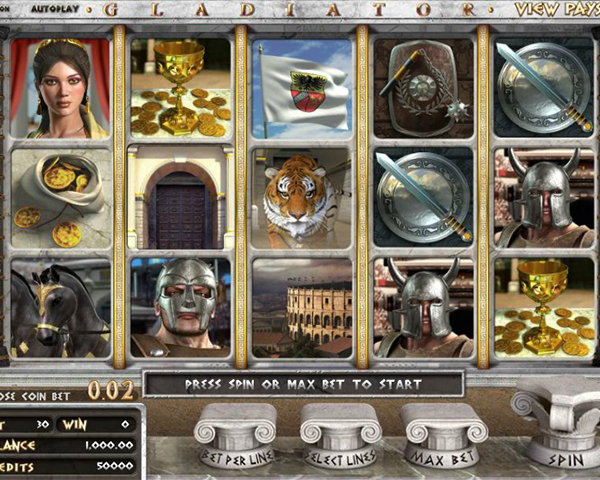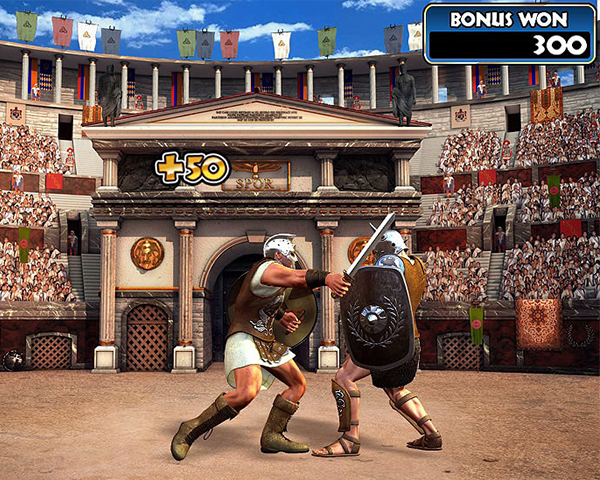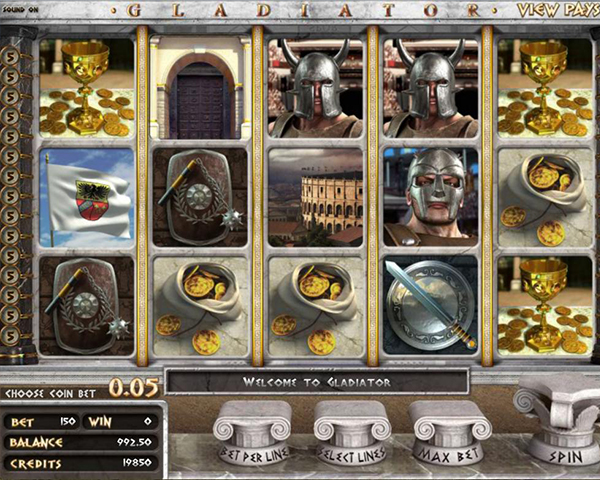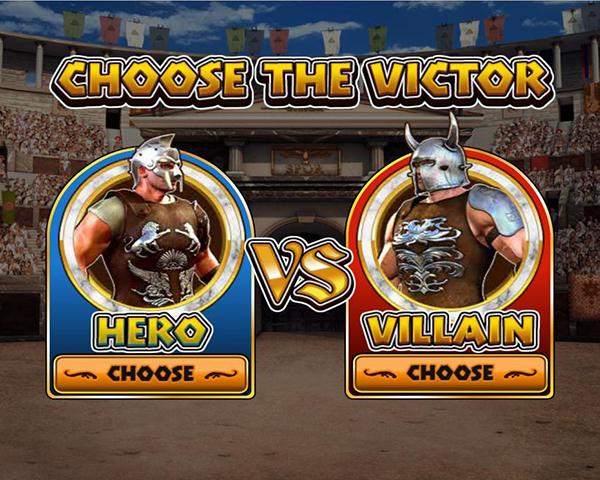 Where To Play Gladiator
Gladiator is available at all good Betsoft casinos, where you can download it to a PC or Mac. But how do you find the best one? The answer is simple. Just look through our list of casinos below and then head to the casino that best suits your needs.
How We Review
At SlotMachines.com, we make sure to give all our online slots a full test. We check for:
Graphics & Theme: How bored will you get and will you turn your browsers off after a few spins? Is the gameplay going to keep you spinning?
Coins & Payouts: We look to see the range of coins you can spin with and look at the jackpots too.
Volatility: How often are the payouts, and how large? Variance is quite important when deciding which slot is best for you.
Compatibility: Is the slot suitable for mobile play? Or is it for desktop only? Can you download the game to your computer or can you only play through a browser? These are the sorts of questions we look at in our online slot reviews.
Volatility and RTP%
There are 2 big things to consider with a slot pay table. Variance refers to how often you'll win. Low volatility slots, like Gladiator, pay out more often than high volatility slots, but the payouts are typically more modest. So, you won't suddenly win 1000x your wagering amount playing this game, but you also won't go for 50-100 spins without winning anything. The other thing to consider is the Return to Player (RTP) percentage, which is in general how much you can expect to win. The RTP is relatively low with Gladiator, as players need to fight a 7.33% house edge. This is pretty high for a slot game that doesn't offer players a progressive jackpot.
Graphics and Design
Immersing players in one of Ancient Rome's most beloved pastimes, the Gladiator slot from Betsoft presents players with a beautifully drawn taste of the arena. Featuring amazingly detailed 3D symbols set amidst an iconic backdrop, and offering some gorgeous animations and suitably dramatic music and sound effects, this Roman-themed slot offers first-class production value as well as some amazing chances to win big.
Payouts and Prizes
The payouts in Gladiator are fairly low compared to what you might find on other slot games. The highest paying symbols are the gladiators, both of which pay out a maximum of 400 coins for 5 of a kind. The scatter will get you a higher payout, with 750 coins for 5 of a kind, without needing to worry about paylines. However, it's important to note that while you won't get the highest payouts, you will win often. This is why Gladiator is considered a low volatility slot game. You're more likely to get frequent small wins than a single, life-changing big win.
Play on Mobile
Playing Gladiator on mobile means that you get to fight it out in the Colosseum and find all the great bonus features from the palm of your hand. Play when and where you like, on the go or at home. Using your favorite online casinos means accessing the same account, wallet and VIP points as you swap easily from mobile to computer and back again as you like.
Thanks to excellent instant play technology, you can enjoy no download Gladiator in your browser on any modern mobile device. This includes iOS, Android, Windows, Kindle Fire or BlackBerry smartphones or tablets. If you're looking to download a custom-built app, however, you'll find that the best experience is often found on Apple or Android devices.
100K Free Coins & 200 Free Spins Bonus with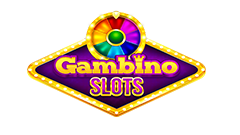 Play For Real Money